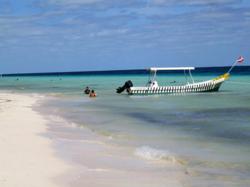 We had a wonderful stay at Casa Merlot. The house was everything you promised and we really loved to be able to walk to town for supper, coffee or ice cream, especially the coconut flavor!
Barb & Ca Pitura
Puerto Moreos, Mexico (PRWEB) September 20, 2011
Casa Merlot, a private Mexican vacation villa, has launched their website showcasing an upscale private luxury vacation destination on the Mayan Riviera, offering natural, uncrowded reef-sheltered beaches, quaint shops, restaurants, cafés, exotic flora and fauna along with breathtaking sunrises and sunsets.
Karen Scott, property owner of Casa Merlot, says "When you are looking for that special vacation rental in Mexico, for that special place to holiday, a place where the pace is slower and less crowded, where the neighbors are friendly, the kids are safe and of course there's that little bar with entertainment a short walk away - there's no need to look any further." The new Casa Merlot website illuminates the best kept secret in Puerto Morelos, which is becoming the destination of choice. It's a vacation destination that lives up to all vacation dreams.
Casa Merlot is a 3 bedroom private Mexican vacation villa only minutes from Cancun and Playa del Carment. Vacationers can expect a villa with "big and little things" that matter. On the casamerlot.com website, web visitors can read about the following amenities at Casa Merlot and more:

comfortable mattresses
kitchen appliances and utensils
Star Choice English Satellite TV
phone service
2.5 hours FREE long distance to Canada or the US per week
FREE, internet
Bottled water
3 premises cleanings per week
pristine linens, beach towels
beach chairs
Casa Merlot is the perfect spot for groups of up to 10 persons but can be a very romantic setting for couples. Casa Merlot is a 3-bedroom vacation villa with a full 1-bedroom suite on the ground floor - perfect for the In-laws.
When renting Casa Merlot, which is such a luxurious Mexican vacation villa, Karen offers, "Vacationers can enjoy the entire house as the pampering staff look after all vacation needs. Take a swim in the pool and lounge in the private courtyard or just lay back and enjoy the perfect sunset, making any vacation, as close to perfect as can be." Vacationers can enjoy the scenic Ocean views from 2 of the bedrooms and an incredible roof terrace with views that are breathtaking!
Guests staying at Casa Merlot don't need a rental car as all points of interest here are within walking distance. The beach is a 2 minute walk and the town square is about a couple of minutes more. Should the guests still want a rental car, Thrifty car rental is a short walk from the villa.
While vacationing at this luxurious villa, sit atop our roof top patio and enjoy sunrise or ocean view with a morning coffee. Enjoy the breathtaking sunsets over the mangroves with an evening cocktail or fall asleep to the warm ocean breezes that will lull you to sleep with tropical fragrances.
Also, as seen on our new website, for guests staying at Casa Merlot, we include free airport pickup and return normally associated with the most luxurious Mexican vacation rentals. To book a tropical holiday to remember, please call to reserve your stay at Casa Merlot.
# # #