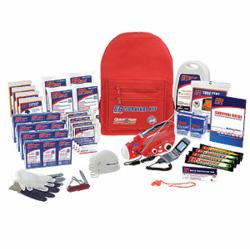 I realized that we could have done more to prepare for this kind of thing. It doesn't happen often, but why not be ready?
San Diego, CA (PRWEB) September 20, 2011
When a major blackout hit Southern California the afternoon of September 8, 2011, the employees at LTD Online Stores were among more than a million San Diego residents left in the dark. Computer monitors shut off and the company warehouse went completely black, making it impossible to pack and ship the high-end bathroom vanities, luxury platform beds, and patio furniture sets that form the core of the company's online retail and e-commerce network. With phone lines cut and access to the web sites' back end programs denied, it was impossible to field orders, authorize transactions, and take calls from customers. Business quickly screeched to a halt.
But the blackout was significant for more reasons than a few working hours and sales lost, says LTD Online's CEO Todd Harmon. It was also a major safety issue, and it caught the company off guard.
"We had guys on ladders in the warehouse, some of them were working with tools and machinery, and all of a sudden they're stuck there in the dark," says Harmon. "And it wasn't just our office, obviously. Traffic lights were out, radio stations. I realized that we could have done more to prepare for this kind of thing. It doesn't happen often, but why not be ready?"
Harmon looks at the blackout as a lesson in preparedness, and did something most CEO's wouldn't consider - he took responsibility for his employees' safety, and bought emergency survival kits for the entire team. The packs were purchased from Quake Kare Inc., the emergency preparedness experts. At $90 each, the purchase represented a significant investment for his staff of 11 full time employees.
"They weren't cheap," says Harmon, "but I consider it a bargain."
The kits, which contain a crank-powered flashlight and radio, green and yellow glow sticks, water purification tablets, a hand-powered cell phone charger, dust masks and poncho, and a fully-stocked personal first aid kit, are packaged in their own lightweight backpacks and even have a blinking indicator light so they can be located in the dark. The full kit weighs approximately 16 pounds and should contain sufficient supplies (including emergency water and food rations) to sustain 4 average adults for 3 days.
Lightweight and portable, the bags include everything you need to survive an extended blackout or any other kind of crisis. Tellingly, the items that come standard in the kit seem to be those same items that very few people actually keep on hand in their own homes or offices.
Harmon said he saw the idea for the kits as a logical extension of the benefits he already provides for his workers, which include comprehensive health insurance for everyone on staff, generous leave, and paid training. More than anything, he said, it was concern for their safety – both in the office and outside of it - that made the decision an easy one.
"When we closed up for the day, a lot of my employees were going home to dark houses, and from what they were telling me, a lot of them hadn't prepared for something like this either," Harmon said.
Many San Diego retail outlets reported a run on bottled water, batteries and other important supplies during the blackout as residents rushed to prepare for what was predicted to be an extended loss of power in the region. Store shelves were bare by nightfall when a lot of retailers closed their doors as a safety precaution.
"By the time they were leaving the office, a lot of stores were already closed for the night," Harmon said. "So it wasn't as if they could stop and pick up some emergency water or supplies or anything."
Harmon, who founded LTD Online Stores in 2005, said showing his appreciation for his employees has always been part of his business model. In his view, a company's staff is its most valuable asset, and worth protecting by any means.
"I think looking out for your employees pays off in the end. I'm loyal to them and they return the favor," said Harmon. "A lot of these guys have been here since day one, so I'm going to show my gratitude to them in any way possible."
The emergency packs are available online direct from Quake Kare.
###