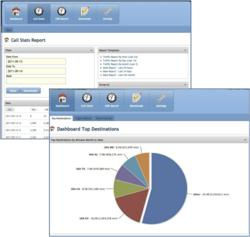 " We know that our Dynamic Carrier Portal will address the constant challenges of managing the exchanging of information and network performance related data between them and their carrier customers & suppliers", Chris Birdsall, GCS EVP
New York, NY (PRWEB) September 21, 2011
Global Convergence Solutions, Inc. (GCS), the leading provider of next-generation transaction management solutions for the communications marketplace, announced today that it has launched a Carrier-to-Carrier (C2C) Portal as part of its market leading OSS & BSS Solution for Communications Service Providers (CSPs): The GCS Dynamic Routing & Rating Management Solution. This new Business-to-Business portal is branded as the GCS Dynamic Carrier Portal and will be delivered via GCS' world class Cloud Computing platform under a Software-as-a-Service (SaaS) pricing model. It will reshape and significantly improve how CSPs acquire and exchange information with their carrier customers and suppliers. It will extend the critical capabilities and functionality of the GCS Dynamic Route & Rate Management solution to the entire ecosystem that CSPs interact with on daily basis.
The GCS Dynamic Carrier Portal is a web based C2C information and data exchange portal that provides unprecedented visibility and clarity into the performance of the CSP's network. This is critical for the CSPs carrier customers and their suppliers. The Dynamic Carrier Portal will include access to Network Analytics, Call Detail Record (CDR) Reporting, Buy/Sell Rate Administration, Quality Analysis and much more. The GCS Dynamic Carrier Portal is fully integrated with the GCS Dynamic Route & Rate Management Solution, the market leading Next Generation OSS & BSS Solution adopted by CSPs all over the world.
"In today's market there are approximately 3,500 CSPs worldwide. On average, the larger CSPs interconnect with only a few dozen carriers. The reason for such low interconnection numbers is because of the complexity involved in managing these interconnects on daily basis. Simply put, this impacts their bottom line. Our average customers, by contrast, interconnect with 150+ carriers. With our Dynamic Carrier Portal our customers will be able to increase the number of interconnects to more than 500!" said Neal Axelrad, CEO of GCS. He continued, "Our Dynamic Carrier Portal eliminates the constraints surrounding managing these interconnects by providing a simpler way to manage exchanging the data while simultaneously providing visibility and insight into network performance for carrier customers and suppliers. This is a major improvement over how most CSPs conduct business today which relies on manual processes that waste time, money and does little to help the CSP increase revenues or capture additional market share."
The Dynamic Carrier Portal is available to all existing and prospective GCS Customers. Details of the product can be found on the company's website at: http://www.globalconverge.com/products.html
About Global Convergence Solutions, Inc. (GCS)
GCS is a leading provider of communications transaction management solutions. The company, with offices in New York & New Jersey (USA) is solving the critical challenges that both existing and emerging Communications Service Providers face. The company's customers include dozens of International and North American Communications Service Providers. The company recently was honored as a 2011 Inc. 5000 honoree.
To learn more about GCS, visit their website at: http://www.globalconverge.com
For all inquiries contact: marketing(at)globalconverge(dot)com
###