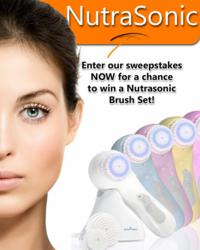 NutraSonic is a fantastic product to give out as a prize...
Seattle, WA (PRWEB) September 19, 2011
DNA Response, Inc. (DNA), provider of multi-channel e-commerce, interactive marketing and order management solutions, announced today that it has launched a Facebook Sweepstake for its beauty and skincare on-line store BuyNutraSonic.com.
Consumers will have an opportunity to win a NutraSonic Essential Brush Set valued at $119. Sweepstake participants must first "Like" the NutraSonic Facebook page and enter their basic information (name and email) into a sweepstake form to qualify. The lucky winner will be announced on Friday, September 30, 2011.
"It is a fantastic product to give out as a prize to one of the fans", commented Peter von Berg, founder of NutraLuxe MD, LLC – company that designed and manufactured NutraSonic brushes. "This brush offers the best value for the professional quality, sleek design and advanced feature set currently available on the market".
The Nutrasonic Essential Brush Set is one of the most popular NutraSonic products developed by NutraLuxe MD. It is a tech-gadget for skin cleansing, which utilizes sonic technology and provides impressive results with regular use. In a NutraSonic clinical study, 93 percent of users noticed improvement in skin firmness and elasticity and 86 percent reported reduction of fine lines and wrinkles. Many users comment on how clean and smooth their skin feels after using the brush and that the sonic brush massages their face, clears pores and improves complexion. After using the Essential Brush, some customers cannot imagine going back to washing their face by hand or with a washcloth and not experiencing the squeaky clean feeling of the sonic cleansing technology.
"We have had great successes with Facebook Sweepstake promotions in the past", said DNA Response CEO Ranjit Mulgaonkar. "And we would like more consumers to learn about the brush and other fantastic products that help achieve professional quality skin improvement results without the high cost of spa treatments and plastic surgeons. All it takes is just a small investment of time and money and some advanced technology to achieve great results."
About DNA Response.
DNA Response, Inc. (DNA) provides turnkey e-commerce, online marketing, and order management services to companies in the $300 Billion direct response market. DNA clients sell products direct to consumers using TV, radio, print catalogs, web and mobile as their sales channels. DNA's ECOM2TM platform utilizes state-of-the art cloud computing technologies and services to improve operational efficiency by reducing transaction costs, eliminating credit card declines, and lowering order cancellations and product returns, while simultaneously increasing online revenue for our clients. DNA provides universal order management for processing orders in real time from all the sales channels with full visibility to the business for the clients. DNA generates incremental revenues and helps build a brand for our clients by providing comprehensive e-commerce and online marketing services
.
About NutraLuxe MD
Nutra Luxe MD, LLC was founded by Mr. Peter von Berg with the object of developing scientifically advanced, clinically proven anti-aging skin therapies. Nutra Luxe MD skincare products are researched and tested by Board Certified Facial Plastic Surgeon Dr. A. Hawrych, MD, who sought to create truly natural anti-aging treatments. The result of both men's shared philosophy is a line of products for both men and women that utilizes the newest technologies in skincare, and includes various beneficial minerals, vitamins, peptides and the newest and most effective Botanical STEM CELLS. Nutra Luxe MD, LLC has been on the forefront of recent skincare technology, most notably for their state-of-the-art sonic face and body brushes and their innovative encapsulation technology.
# # #