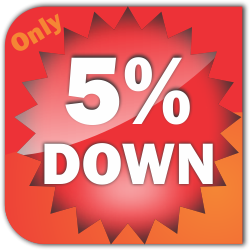 Let us get to you, before your cell mate does.
Miami, Florida (PRWEB) September 21, 2011
Looking for a Miami bail bond company that has low down payment requirements to help you get a loved one out of jail fast? We Finance Bail Bonds announced today a new Miami bail bond service requiring only five percent down to post a bond. Now Miami area residents can make bail quicker without having to take hours or days raising a large amount of money from savings, friends or family.
"People used to have to wait for hours or days for their loved ones to get money from friends, family or their savings accounts just to make bail and get back to their lives," said Leslie. "At We Finance Bail Bonds our new five percent down program makes it easy as possible to get someone out of jail quick without having to pay a lot of cash up front. We understand people are having rough times and want to do what we can to work with the community to help."
While most bail bonds companies require a full 10 to 15 percent down payment to secure a bail bond in Miami, We Finance Bail Bonds only requires a convenient five percent down payment for a bail bond in Miami and can even set up easy payment plans for qualified applicants. In these tough economic times, this new convenient service means families won't have to take as much precious money used to pay rent or food to pay large bail payments. They also can arrange for a Miami bail bond payment right over the phone right from the convenience of your own living room.
We Finance Bail Bonds provides convenient bail bonds in Miami, and the surrounding Broward and Miami-Dade counties 24 hours a day and seven days a week. Their professional express service means that no matter the time of day or night, local families can always rely on the speedy service from We Finance Bail Bonds to handle a quick release of their loved ones. In fact, their team of dedicated Miami bail bond professionals is able to respond in person to any jail in Southeast Florida and quickly meet the inmate bail requirements.
For more information about posting a bail bond in Miami, or to take advantage of the new five percent down program to handle a Miami bail bond need for your loved one, please contact We Finance Bail Bonds at 305-381-5245 or visit their website at http://www.wefinancebailbonds.com.
Media Contact:
Leslie T.
We Finance Bail Bonds
Phone: 305-381-5245
###