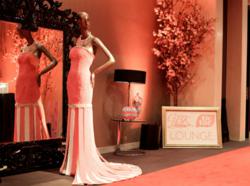 "The Tic Tac inspired gown was a great way to celebrate the Emmy® Awards with Tic Tac® mints while supporting CancerCare," - Carla Domen, Vice President of GBK Productions and designer of the Tic Tac® mints creation.
Los Angeles, CA (PRWEB) September 19, 2011
GBK, the luxury lifestyle gift lounge and special events company, and Tic Tac® mints honored the 2011 Emmy® Awards Nominees and Presenters with an elegant gift lounge setting at the hottest LA hotel, the W Hollywood. GBK, the recipient of multiple BizBash Awards for "Best Gift Bag," and Tic Tac® mints offered their guests great gifts and memorable moments, all in celebration of the 63rd Primetime Emmy® Awards.
Title sponsor Tic Tac® mints unveiled its red carpet inspired dress comprised of limited edition Pink Grapefruit and Fresh Mint flavor Tic Tac® mints. The gown was a jaw-dropping masterpiece that was made of approximately 70,000 Tic Tac® mints, weighed 150 pounds and took over 175 hours to create. "The Tic Tac inspired gown was a great way to celebrate the Emmy® Awards with Tic Tac® mints while supporting CancerCare," quoted Carla Domen, Vice President of GBK Productions and designer of the Tic Tac® mints creation. In addition to the dress reveal, Tic Tac® mints presented a check for $100,000 to CancerCare, an organization focused on supporting all people affected by cancer, including those people with cancer, caregivers, loved ones and the bereaved, as part of the brand's ongoing commitment to CancerCare.
As always, great gifts were a part of the GBK and Tic Tac® Mints Emmy Gift Lounge which featured a mixture of new, innovative products and services as well as well-known and loved brands. Some of the top gifts were provided by the event's Presenting Sponsors such as the ComforPedic Mystic mattresses from ComforPedic by Simmons, Green Smoke® Electronic Cigarette Starter Kits from GREEN SMOKE, and personal family history searches from Ancestry.com, the world's largest online family history resource. The Ancestry.com searches done at the lounge were not only a unique element of the GBK Gift Lounge, but a touching and emotional experience for many of the celebrity guests who got the chance to learn about events and information in their families' histories that they were unaware of.
Other gifts include custom branded solar universal phone chargers from BLENDR, LLC, the Host of the GBK & Tic Tac® Emmys Preview Mixer and a new mobile social network – meet people in your area with common interests; eco-friendly products and a $1000 gift card to EcofirstArt.com, SOHO cosmetic bags, the children's book Just Like You written by Robert Kroupa, beauty drink mix supplement from Beauty Foods; custom suits from Bond St Custom Clothiers, oil for satiny smooth face, body and hair by CARITA PARIS, gift certificates from Exclusive Sedan Service, skincare from GlyMed Plus®, indie designed clothing, jewelry and accessories from The indiExhibit, hairbrushes from KNOT GENIE DETANGLING BRUSH, luxury scarves from Margo Petitti Inc., skincare from Onsen, shoe insoles from Piggy Pillows, clothing from Reflect It Apparel, eyelash enhancement conditioner from RevitaLash ADVANCED, trips from Caribbean Living Magazine, apparel from Robert Graham, "VINCI Tab," touch screen mobile learning for babies, toddlers and young children by Rullingnet Corporation, fragrances from SCENTSY, skincare from Haan Therapeutics, Sprout Watches, an array of handcrafted products from The Artisan Group, clothing and accessories from The Children's Place, hair care from Tosca Style, luxury destinations from Kurtz-Ahlers & Associates, lightweight and multi-purpose sleep sacks by SHEEX, gift certificates to the family development center, Wallaby, Christine's Gourmet Toffee, gourmet chocolate truffles from Bread Basket Cake Company, gift certificates from WineChateau.com, sweet and savory gourmet cookies from TheCravory.com and chocolates from Zoë's Chocolate Co.
Charity is a major focus with GBK Gift Lounge and in addition to CancerCare, this year the lounge featured The Art of Elysium, A New Way of Life Reentry Project™ and Teach For America. With a combined effort between GBK and Presenting Sponsors GREEN SMOKE and ComforPedic by Simmons, the lounge itself raised over $27,000 in funds for charity.
ABOUT GBK:
GBK, formerly GBK Productions, is a luxury lifestyle gifting and special events company, specializing in entertainment marketing integration. Formed in 2000 by Gavin Keilly, the company's Founder and CEO, GBK consists of five divisions: GBK Celebrity Gifting, GBK Special Events, GBK Weddings, GBK Charitable Consulting and GBK Marketing/Public Relations. Widely known in the entertainment industry for bringing that little extra something into the Gifting Lounge environment, GBK offers its clients a full range of marketing services. For more information on Gavin B. Keilly (CEO), Carla Domen (VP) or GBK, please go to gbkproductions.com.
# # #