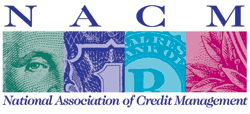 Trade creditors and companies that do business with the government should not have to sacrifice their cash flow so that the government can meet its obligations.
Columbia, MD (PRWEB) September 20, 2011
Following recent developments in the House of Representatives, the National Association of Credit Management (NACM) expressed its hopes that Congress would finally repeal the pending 3% withholding tax. The withholding requirement would be levied on the value of most contracts for goods and services between businesses and federal and state governments, as well as local political subdivisions with contracting expenditures of $100 million or more.
"NACM has opposed this withholding requirement since it was enacted in 2006," said NACM President Robin Schauseil, CAE. "Hopefully, the encouraging comments made by lawmakers like Rep. Mike Mulvaney (R-SC), who rightly described the tax as 'job-crushing,' and House Majority Leader Eric Cantor (R-VA), who has signaled that repeal will be on the House's agenda this fall, ultimately mean that the end of the 3% withholding tax is near."
As an association comprised of trade creditors, many of whom do a great deal of business with the government, NACM has been especially concerned about the potential negative effect that the 3% withholding tax would have on cash flow. The withholding requirement was originally passed in the Tax Increase Prevention and Reconciliation Act (TIPRA) in 2006 as a means to reduce the nation's tax gap, representing the $345 billion annual difference between taxes legally owed and taxes collected. The idea was that since a number of contractors that did business with the government didn't accurately pay their tax bills, a withholding requirement would offset the revenue lost from these contractors' non-compliance.
"Tax compliance is an important issue, but Congress should not punish all contractors for the sins of a few," said Schauseil. "The 3% withholding tax would do more harm than good and is too blunt an instrument to address the delicate problem of increasing tax compliance."
Mulvaney, who chairs the House Small Business Committee's Subcommittee on Contracting and Workforce, recently held a press conference following President Barack Obama's introduction of the American Jobs Act, which would delay the 3% withholding requirement for another year. This would be the third delay of the 3% tax, which was originally meant to go into effect on January 1, 2011, but NACM agrees with Mulvaney that delays only go so far in addressing the concerns of the nation's businesses. "Companies won't wait until the 3% requirement goes into effect to prepare for it," said Schauseil. "They're preparing now, spending their valuable time and money on a withholding requirement that should never enter into force."
The tax is a flat percentage that bears no relation to a company's income, and would place a severe strain on all businesses that rely on the government. "The requirement will fall hardest on small businesses since many operate on tight cash flows and simply wouldn't be able to afford a new tax," said Schauseil.
"Trade creditors and companies that do business with the government should not have to sacrifice their cash flow so that the government can meet its obligations," she added. "A permanent repeal will provide companies with some much needed certainty about the future and help them create jobs today."
For more information on NACM's effort to repeal the burdensome 3% withholding tax, visit the association's advocacy page (http://www.nacm.org/advocacy.html).
About the National Association of Credit Management
NACM, headquartered in Columbia, Maryland, supports more than 15,000 business credit and financial professionals worldwide with premier industry services, tools and information. NACM and its network of affiliated associations are the leading resource for credit and financial management information, education, products and services designed to improve the management of business credit and accounts receivable. NACM's collective voice has influenced federal legislative policy results concerning commercial business and trade credit to our nation's policy makers for more than 100 years, and continues to play an active part in legislative issues pertaining to business credit and corporate bankruptcy. Its annual Credit Congress is the largest gathering of credit professionals in the world.
NACM has a wealth of member experts in the fields of business-to-business credit and law. Consider using NACM as a resource in the development of your next credit or finance story.
Source: National Association of Credit Management
Contact: Jacob Barron, CICP, 410-740-5560
Blog: http://blog.nacm.org/
###