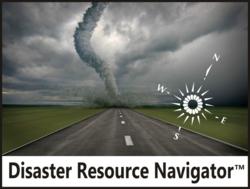 This software application is like having insurance. You hope you never need to use it, but if you do need it, you will be glad you have it.
Guntersville, Alabama (PRWEB) September 20, 2011
Radio and TV broadcasters can provide a critical role in furthering the safety of life and property during disaster situations -- including tornadoes, hurricanes, ice and snow storms, floods, widespread power failures, etc. -- by quickly informing the public about the post-disaster services that are available.
Riverview Software Solutions provides a software application named "Disaster Resource Navigator" to provide diaster preparedness and assist during disaster recovery efforts.
The Disaster Resource Navigator software application provides an organized method of keeping track of important information and provides quick navigation of local resources offering critical services and supplies such as food, water, ice, shelters, generators and fuel. With the Disaster Resource Navigator, this information is just a mouse click away saving valuable time for the broadcast staff, listeners and viewers.
The Disaster Resource Navigator eliminates having piles of notes to sort through or lose during a natural disaster or emergency.
The Disaster Resource Navigator application is intuitive for radio and TV broadcasters of all levels of experience. Minimal typing is required with only 3 data fields. All data is automatically saved - no buttons to click, just enter the data "on the fly" and it will be saved automatically.
The Disaster Resource Navigator user interface provides a simple and intuitive interface for the user. Users can click on a category and the Resource List is instantly populated with all resources providing that particular service. Hot buttons are provided for immediate access to the most critical information.
The application includes a U.S. state, county and city database which can be setup for specific defaults and favorites - minimizing the number of items on the drop-down selection lists. Built in category lists are provided and new categories can be added as needed. The software also includes an activity logger to easily comply with FCC reporting requirements.
The software design is based on a "Real Life" scenario. In April 2011, tornadoes devastated many areas in Alabama with a record breaking 53 in one day throughout the state. Riverview Software Solutions is located in the northeastern section of the state where nine of the 53 caused severe damage.
A local FM station operated under FCC emergency broadcast rules for many days and fielded numerous phone calls from the general public, local businesses and other local service agencies. The FM station became a crucial communications hub that helped citizens find much needed supplies and provided the location of resources throughout the area.
Riverview Software Solution's design team monitored this activity and discovered that after days of taking notes and relaying information, the station staff had so many notes and occasionally, finding the desired information for callers was starting to take a considerable amount of time. There had to be a better way so the Riverview team set out to develop this software application.
Riverview Software Solutions offers a free 15 minute online software demonstration. Simply fill out the Information Request Form on the Website.
Should a natural disaster strike a community in the future, having the Disaster Resource Navigator will be an essential tool for quickly providing information to the public.
Riverview Software Solutions development team has over 48 years of accumulated experience in the software development industry as well as experience in the RF communications industry. The president of the company has a degree in Broadcast Engineering. Our primary focus is custom software development for clients. We also provide software products to the business community.
Visit us on Facebook
###