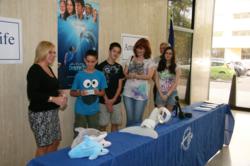 Clearwater, FL (PRWEB) September 19, 2011
In partnership with the Clearwater Marine Aquarium, among others, AmeriLife Group, LLC, provided a substantial donation to help host the screening of the film Dolphin Tale, a Clearwater-based movie about a dolphin without a tail.
The true story of a baby dolphin named Winter who was found nearly dead, nursed back to health and then fitted with a prosthetic tail fluke, will premiere Wednesday, September 21st at Clearwater's Ruth Eckerd Hall. This special movie screening is being held two days before Friday's general release of Dolphin Tale in America.
"Like most everyone in Clearwater, we've followed closely the story of the rescue and rehabilitation of Winter, and our years-long interest became a shared sense of community pride and ownership in Clearwater's biggest star," said AmeriLife's owner, CEO and President Timothy North. "We felt proviledged – honored, really – to help host the first showing of Dolphin Tale, especially since the movie screening is being hosted in Clearwater."
The movie's debut is two days after AmeriLife presented a 13-year old Clearwater boy and his family with tickets to the premier. Travis Simpson has a leg prosthesis similar to the one Winter uses to swim through the water. The young teen, his twin brother and two other siblings were surprised Monday, September 19th with free tickets to the movie's 3-D premiere as guests of the aquarium. Born with a leg that ended above his left knee, Travis first met Winter two years ago at the Clearwater Marine Aquarium and was even an extra during the making of the movie.
A Warner Brothers film starring Harry Connick, Jr., Ashley Judd and Morgan Freeman, Dolphin Tale tells the tale of Winter, the now six-year-old bottlenose dolphin who overcame many obstacles as she learned to adapt to a physical handicap that initially was life-threatening. The movie tells the story of how she learned to use a custom-made tail fluke / joint to swim.
AmeriLife, the largest senior-focused life and health insurance agency of its kind in America, partnered with the Clearwater Marine Aquarium to host the Red Carpet Screening at Ruth Eckerd Hall on Wednesday, September 21st. A special presentation to the Sampson family was held on Monday, September 19th at AmeriLife's corporate offices in Clearwater where the company partnered with the aquarium to also feature a number of movie set props,as well as one of Winter's prosthetic tail devices on display.
The Clearwater Marine Aquarium, located on Island Estates in Clearwater, is a non-profit organization dedicated to restoring and preserving marine life and the coastal environment through education, research and the rescue, rehabilitation and release of marine life. It was at the aquarium where Winter - was nursed back to health from the age of two months old after her tail was entangled in a crab trap off of Florida's east coast. Winter's tail fluke (a dolphin's primary mode of propulsion) was so badly damaged that it had to be removed and eventually, Winter was fitted with the fluke/joint prosthesis that allows her to swim much like other dolphins.
Proceeds from the Dolphin Tale screening will benefit both the Clearwater Marine Aquarium and the Challenged Athletes fund. Tickets are $99 each and include two free admission passes to the Clearwater Marine Aquarium.
For additional information about AmeriLife, please visit http://www.amerilife.com. For more information on AmeriLife's involvement with the Clearwater Marine Aquarium and Dolphin Tale, please contact Public Communications Director Wayne Shelor at 727-726-0726.
AmeriLife Group, LLC, together with its subsidiaries, provides senior-focused life and health insurance products and services in the United States. It offers a health and financial protection kit consisting of health and dental insurance, Medicare Supplements and Advantage plans, prescription drug plans, fixed and equity indexed annuities, as well as life, final expense and long-term care insurance for senior Americans. AmeriLife operates a network of Medicare-preferred provider organizations and markets homeowner, automobile, unit owner, watercraft and liability insurance products of various companies. Founded in 1971 and based in Clearwater, Florida, AmeriLife also provides third-party administration services such as compliance, policyholder, premium billing, claims and underwriting services.
###