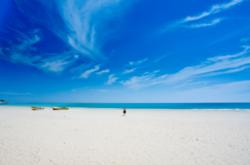 Sri Lanka a destination that should be at the top of everyone's bucket list
Washington, DC (PRWEB) September 20, 2011
D&J Ventures, a Washington, DC-based enterprise, announces the launch of Newxplorer.com, a client-focused company specializing in customized luxury travel to the enchanting island of Sri Lanka.
Renowned for the 13th-century explorations of Marco Polo, arguably the world's first adventure traveler, the Pearl of the Indian Ocean is now being discovered—and embraced—by modern travelers. The New York Times named Sri Lanka the #1 Place to Go in 2010 and the National Geographic Channel recently ranked it as the #2 World's Best Island, distinctions that recognize the rich array of adventure, cultural, and leisure opportunities travelers can experience in one extraordinary destination.
Sri Lanka's wealth of attractions indulge a variety of interests and travel preferences. The island boasts eight UNESCO World Heritage Sites, including a Dutch fort, two biosphere reserves, and ruins from five cliff-top citadels of ancient 2,500-year-old kingdoms. Pristine stretches of sandy white beaches kiss the azure waters of the Indian Ocean under glowing orange sunsets. Fascinating wildlife—leopards, more than 400 bird species, and the world's two largest mammals, the elephant and the blue whale—roam the land, flit through the trees, and swim the waters. A vibrant culture celebrates a mélange of religions and historical influences that emerge in everything from the cuisine to the art to the architecture. Shopping districts showcase some of the world's finest gemstones, including the famous Sri Lankan (Ceylon) sapphire.
"There is a feeling of adventure when you visit Sri Lanka," says Dular Niyangoda, founder and president of Newxplorer.com. "When you walk the beaches, hike the tropical forests, and explore the ancient wonders, it's as if you are discovering a world unspoiled by modern civilization. You feel yourself stepping back in time and can easily imagine how Marco Polo experienced the island over eight centuries ago."
Niyangoda should know. Born in Sri Lanka, but a resident of Washington, DC, for more than 20 years, he's been returning to his homeland almost every year, exploring its host of treasures and watching it change, while marveling how much it remains the same.
The country's attractions combined with the dynamic culture, friendly people, environmental consciousness, delicious food steeped in the "locavore" tradition, world-class lodging, modern medical facilities, and a reputation as unchartered terroritory makes Sri Lanka a destination that should be at the top of everyone's bucket list.
"Sri Lanka offers an unparalleled travel experience. My goal in forming Newxplorer.com was to help travelers easily access the wonders of the country. Even in the era of the internet, it can be difficult and time-consuming to thoroughly research a travel destination. There are so many sites offering diverging comments from people you don't know. We want to take some of the guess work out of planning your Sri Lankan adventure. Whether you want to simply bask on a beach, enjoy a more adventure-filled experience, or focus on food, well-being, or culture—or even a little of everything—we will help you tailor a trip that fulfills your fantasies. Our network of local partners and intimate knowledge enables us to harness all Sri Lanka has to offer and thereby exceed customer expectations."
Newxplorer.com's inaugural Xplore travel packages include Xplore Ancient Kingdoms, Xplore Wildlife, Xplore Beaches, and Xplore Biodiversity. In addition, Newxplorer.com offers custom options for travelers seeking a more personalized experience. All packages enjoy small groups; flexible dates; luxurious accommodations; English-fluent travel concierges, chauffeurs, and expert guides; and optional excursions that provide a one-of-a-kind travel experience.
About Newxplorer.com
Newxplorer.com is a provider of customized luxury travel to Sri Lanka. The company's Xplore travel packages offer customers variety, flexibility, and unparalleled experiences in Sri Lanka and other exotic destinations worldwide.
###