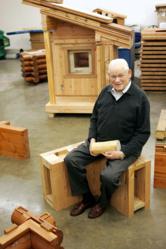 Seattle, WA (PRWEB) September 20, 2011
The homebuilding industry lost a passionate visionary this week when Sir Walter Lindal, founder of Lindal Cedar Homes, died on September 15. He was 92.
Sir Walter was the inventive force behind the company since its beginnings in 1945. A lifelong inventor with a deep understanding of what homeowners want, he held over 30 patents, including one for the iconic American
A-frame building form. His vision and ideas for delivering on the dreams people have for their homes shaped the company and influenced the entire systems-built industry.
The first winner of the prestigious S.A. Walters Systems-Built Achievement Award in 1986, Sir Walter was one of the founding members, in approximately 1950, of the Pre-Fabricated Home Manufacturers Institute, the precursor of today's Building Systems Council of the National Association Home Builders. Lindal homes have graced the pages of many magazines, including Popular Mechanics, TIME, and Dwell, and been featured in numerous shelter books and publications.
Orphaned at a young age, he was always curious about how things worked and was constantly thinking of ideas and plans for a better future. Starting with selling chicken eggs, he soon mastered the door-to-door sale with Fuller Brushes. He later learned the retail lumber business from his Uncle Ben, which provided the foundation for his career in the homebuilding industry.
While serving in World War II with the Canadian Army, he worked in the Ordinance Division, Weapons and Design Development, where he was instrumental in the design and development of a new machine gun and anti-aircraft tank. During his military service, he witnessed the dawn of pre-fabricated housing as he traveled around North America and saw how military camps housing 25,000 troops went up in a few months. He soon applied his creative mind to developing his business plan to sell "packaged homes." Founded in Toronto in 1945 as Colonial Homes, the company sold its first building packages for $195. As the company grew, its name was changed to Lindal Cedar Homes and the headquarters moved, first to Vancouver, BC and later, to the United States in the mid 60s. Sir Walter's four children, Bonnie McLennaghan, Robert, Douglas and Martin, all grew up in the business and became instrumental in managing and running the family-owned company.
Today, over 50,000 Lindal homes grace view properties and urban hillsides around the world, with most of the company's deliveries in North America. Known for its signature prow design and walls of glass, Lindal recently expanded its home designs to include modern homes designed by Turkel Designs for the Dwell Homes Collection.
Sir Walter's love for wood and everything to do with the homebuilding industry was an energizing force throughout his life. The company was an early adopter of building energy-efficient homes and replacing the trees used in their construction by working with American Forests to replant trees across the United States. Lindal has planted nearly 150,000 trees in the names of its homeowners.
Sir Walter turned over the company's executive leadership to his family long ago, yet he continued to go to the office well into his nineties and was an inspiration to his family, dealers, employees and homeowners. He was often heard to say, "A lot of things have changed since I founded this company, but our passion for beautiful homes made of quality materials has never gone out of style."
###