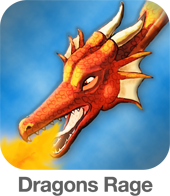 ...fun to play and hard to put down...
LaSalle, Ontario, Canada (PRWEB) September 21, 2011
Released by Touch Village Inc, Dragons Rage is an addictive, medieval, action-arcade game where users take the place of an angry dragon and fight to defend themselves against an onslaught of enemies like knights with swords, archers and pike men. Using the power of fire and the movement of the mobile device, the dragon must defeat enemies as they attack from all sides. Users will fight their way through villages, towns and mountains to reach the castle and their final challenge.
"Dragons Rage is a simple game, but there's no reason why simplicity can't be challenging. It's all about providing users with a game that's easy to learn, fun to play and hard to put down," Says Michael Lapico, Founder of Touch Village Inc.
Dragons Rage offers bright, graphic visuals that enhance the imagination and in turn, allow the user to get lost in fast-paced game play. The simple controls and catchy music make this game appealing to children and adults of all ages.
Device Requirements:

Compatible with iPhone, iPod touch, and iPad
Requires iOS 3.2 or later
Universal Application
36.1 MB
Pricing and Availability:
Dragons Rage is priced at $1.99 for iPhone, iPad and iPod touch devices for a limited time introductory price. Dragons Rage is available worldwide on the App Store.
# # #