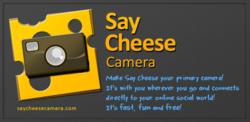 This camera is just the best I've found yet. ~ Android Market Review
Salt Lake City, UT (PRWEB) September 20, 2011
The free Say Cheese Camera app is truly a social camera - listening, talking and integrating seamlessly with Facebook. It is full of easy and time saving features including batch uploading to Facebook and Google+. A fun and innovative Voice Command offers a no touch ability by just verbally stating "Say Cheese!" to take the picture. Custom commands and responses can be entered that Say Cheese will state aloud such as, "That's a great smile, Jessie!" right after the picture has been taken.
Use of the Live Visual Frames immediately make a photo look retro, aged, weathered or even sassy with many different styles and designs. Stealth Mode makes the screen turn off and a press anywhere on the blank screen will take a picture. Say Cheese is good enough that the stand-alone camera can be left at home.
The free Say Cheese Camera App for Android devices is developed by rainapps, llc. Launched in 2010, rainapps successfully blends technology and creativity together and has already published two free Facebook applications, rainFrames and rainSlides, with more to be released in Q4. An IOS version of Say Cheese is in the works.The development team combines over 50 years of technology experience.
###