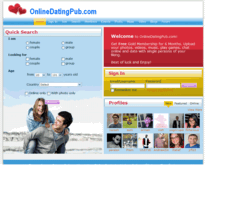 Toronto, ON (PRWEB) September 21, 2011
A-Z Internet Solutions Inc. launched http://www.onlinedatingpub.com to worldwide English speaking audience for online speed dating and chatting. It is offering free gold membership for 6 months to its new members.
It has many latest features like playing online games and uploading of videos and music by members besides online text and video chatting. The sign up process is very simple and user friendly. Website is fully compatible with mobile devices. It offers speed online dating to its gold members. Members can also post their classified ads for free.
Hundreds of members joined within 24 hours of its launch. It seems it will soon catch the attention of online dating seekers because of its latest features.
People interested in learning more about online dating pub can visit http://www.onlinedatingpub.com
###