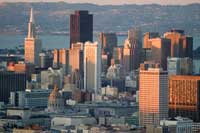 The expert panel will speak on trends in today's San Francisco high-rise market, challenges influencing the community urban environment, success factors that benefit residents and social designs for successful urban community life.
San Francisco, CA (PRWEB) September 20, 2011
Merit Property Management, a FirstService Residential Management company, is hosting a complimentary evening of 'Tastings & Trends' on Thursday, September 29, 2011 for San Francisco homeowner association board members, volunteer committee members and media.
The event will include an expert panel who will speak on trends in today's San Francisco high-rise market, challenges influencing the community urban environment, success factors that benefit residents, social designs for successful urban community life and ethical choices and fiduciary responsibilities for board members.
Expert speakers include the following local development and community association specialists:
David J. Sobel, San Francisco Redevelopment Agency. For the past eight years, Mr. David Sobel has worked with the San Francisco Redevelopment Agency, where he oversees both its Homeownership Programs and Inclusionary Housing Program. He also coordinates affordable housing policy and production for several redevelopment project areas in San Francisco, including the Hunters Point Shipyard. A frequent speaker at regional and national housing conferences, he is often quoted in local and national news media, and was featured on National Public Radio's "Fresh Air." Mr. Sobel was included in the 2007 industry film "A New Way Home."
Phil Owen, President and Co-Founder, Mission Bay Development Group, LLC. Mr. Phil Owen is responsible for the development and construction activities of approximately $1.3 billion. Mr. Owen's passion and depth of experience in construction and planning has proven to be a winning combination for managing complex mixed-use brownfield projects. Mr. Owen also coordinates the interests of land owners, redevelopment agencies, public works departments and public utilities, local, state and federal agencies, vertical developers, as well as local community-based organizations. He is the President of the Board of the Mission Bay Maintenance Corporation, and is a member of the San Francisco Chamber of Commerce, San Francisco Planning and Urban Research (SPUR), and Urban Land Institute (ULI), currently serving on the Community Development Green Council.
Michael J. Hughes, Hughes Gill Cochrane. San Francisco native Mr. Michael Hughes began representing community associations in 1983 and has for more than 28 years provided counsel to Boards of Directors and memberships in all aspects of CID operations, including CC&R interpretation, revisions and enforcement, commercial relationships with vendors, member disputes and construction defect litigation. Mr. Hughes' practice focuses on the representation of mid and high rise developments in San Francisco.
Melinda Masson, CCAM, PCAM, Founder and CEO, Merit. Since founding Merit in 1980, Mrs. Melinda Masson's vision and innovation has led the company to over three decades of continuous growth. Mrs. Masson has been a prominent influence in defining the community association management industry and establishing its professional and ethical standards. She is a sought-after industry spokesperson, covering topics such as market trends and their impact on community associations.
Isaiah Henry, CCAM, San Francisco Business Unit Leader, Merit. Mr. Isaiah Henry oversees San Francisco's urban high- and mid-rise market for Merit's community management services. He is responsible for business development, operations, client retention, developer relations as well as staff training and development. Mr. Henry also plays an integral role in the recruiting and hiring of Merit staff members in his region, the establishment of new accounts and the development and implementation of company procedures and policies.
The panel will be moderated by Andrew Schlegel, CCAM, Executive Vice President, Finance, Merit. Mr. Andrew Schlegel has more than 20 years of experience in accounting and finance. Prior to joining Merit, he worked in public accounting managing bank audits, business lending, and directing recovery audit services for Fortune 500 companies. He is a Certified Community Association Manager and an expert on a variety of Common Interest Development finance issues. He is a sought after speaker and serves as insightful moderator for trends in the industry.
Social networking begins at 5 p.m. followed by presentations from 6:30 p.m. to 8 p.m. The event will take place at the EPIC Roasthouse located at 369 the Embarcadero, San Francisco, CA 94105. RSVP to (877) 781-7787 or visit http://www.meritpm.com/home/news/san-francisco-hosts-tastings-and-trends.aspx.
About Merit
Since 1980, MERIT has grown to be one of the foremost providers of professional community association services in the Western States. Merit specializes in the forward planning and management of master planned, single family home/condominiums, active adult, and urban high- and mid-rise communities as well as rental property management for investors (http://www.meritrental.com).
Merit is a subsidiary of FirstService Residential Management (FSR). FSR is the largest manager of residential communities in North America, overseeing more than 5,300 properties and over 1.3 million residential units.
FirstService Residential Management is a subsidiary of FirstService Corporation (NASDAQ: FSRV, TSX: FSV), a global leader in the rapidly growing real estate services sector. Further information may be obtained at http://www.firstservice.com.
Find us on Facebook, learn about us on LinkedIn, sign up for our RSS Feed and watch us on You-Tube.
# # #