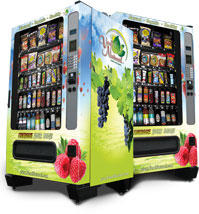 We are pleased to offer these new healthy vending options. We have received very positive feedback from students and expect to expand the number of machines in the near future.
Richmond, VA (PRWEB) September 20, 2011
Today, thanks to healthy snacking leaders like Vend Natural – which has been selected by Virginia Commonwealth University (VCU), VCU Medical Center and The Steward School as well as by more than 550 schools, universities, businesses, hospitals and community centers across the nation - bananas, fresh cut vegetables and fruit are among the many healthy options now available in convenience vending machines throughout Richmond and the nation. Among the hundreds of choices are all natural chips and popcorn, low fat health bars, organic fruit smoothies, natural coconut water and more. Many of the products available through Vend Natural meet or exceed federal, state and school nutritional standards for calories, fat, vitamins, fiber and sodium.
Commenting on VCU's decision to adopt Vend Natural healthy vending machines, VCU Dining Sales Manager Tamara Highsmith said, "We are pleased to offer these new healthy vending options - which are not available in standard vending machines - to our students. We have received very positive feedback from students and expect that we will expand the number of machines in the near future."
Ken Seward, Headmaster of The Steward School reflected on their decision to partner with Vend Natural: "When we decided to offer vending on campus, we knew it had to be healthy. Our school's core values include honor, responsibility and achievement, balanced by caring and respect for oneself and others. As such, it was extremely important for us to provide options to our students and faculty that allowed them to make healthy choices. Vend Natural provided that for us: healthy, balanced, natural choices in snack food." Mr. Steward continued, "The machines have received very high interest from our students, with many selections selling out within a day or two. We look forward to our continued relationship with Vend Natural."
Vend Natural, founded by company CEO Gil Sanchez, was formed to address the declining health of our nation and skyrocketing teenage and adult obesity rates by providing healthier snacking alternatives to schools, hospitals and businesses. The company's mission is to support improved eating practices by offering healthy products that are easily accessible and affordable to everyone.
"We are thrilled that so many important Richmond area institutions have embraced this healthy option for their employees, students and visitors, said William H. Carpenter, Jr., Vend Natural President. "It was particularly exciting to have both VCU and the VCU Medical Center join with one of the nation's most prestigious private schools – The Steward School – to stand up for good health and offer so many healthy choices to their students, patients and the broader community."
Leading the charge for Vend Natural in Richmond is entrepreneur David J. Lundgren, whose personal story compelled him to join the company and bring better snacking choices to the Richmond community. Struggling with his own weight, one year ago David underwent gastric bypass surgery and achieved a stunning 125 pound weight reduction. Post surgery, Dave has learned to make better food choices for himself and his family. A father of two student athletes, David's daily life brought him to swim centers and athletic facilities throughout the area with no healthy snacking alternatives.
"I found very limited quick and easy options when trying to fuel an athlete, or find those important nutrients to keep me going when out of town. It was this experience that made me want to bring these options to the Richmond area," said Dave. He continued: "I believe that everyone, especially children and young adults need to have the opportunity to make smart food decisions, regardless of location and convenience. Finding a healthy and delicious option to eat "on the go" should be an option available to everyone."
Vend Natural is the only healthy snacking company in the country that not only partners with business owners coast to coast, but also owns and operates its own machines on the west and east coasts. This enables the company to test new equipment and products before full roll-out and provide the most relevant training and customer service operation for its distributors. "We don't just 'sell' the business, we are IN the business, which makes us significantly more knowledgeable about what works and what doesn't," said Mr. Carpenter. Part of Vend Natural's mission is to ensure a fresh product mix and their strong relationship with Del Monte Fresh Produce ensure that fresh cut apples, pineapples, carrots, celery, whole bananas and more, are available to their customers.
Vending Machines Go Green: Good for the Body and the Planet
Vend Natural's vending machines are not the old school machines you are used to. Today's state of the art vending machines are not just good for the body, but have gone "green." They feature:

-More than 40% recycled metals.
-Remote, internet-based monitoring systems, preventing unnecessary fuel costs and emissions to replenish products.
-5 Star energy rating.
America has a BIG Problem: The Facts on Obesity
Rates of obesity among children and adults have risen by alarming rates over the last several decades. Here are some facts:
1. 1/3 of children in America are either overweight or obese
2. 19.6% of kids ages 6 to 11 are unhealthy (compared to 6.5% in 1980)
3. Obesity in children can lead to diabetes, stroke, cancer, and more
4. Today's children are the first generation to have shorter life spans than their parents due to poor health
5. Adult obesity rates have continued to rise with 38 states now with obesity rates of more than 25%
6. Washington, DC has an adult obesity rate of 21.7%; Maryland has 27.1% and Virginia 25.9%
7. Fifteen years ago, Washington, DC had an adult obesity rate of 12.8%, Maryland's rate was 15%, and Virginia's was 14.2%.
For more information about obesity in America, check out First Lady Michelle Obama's video: http://www.themoreyouknow.com/video/first-lady-michelle-obama/1199919/
About Vend Natural
Vend Natural is America's fastest-growing healthy snacking company and is based in Ventura, California and Annapolis, Maryland. The company was inspired by the vision of helping to transform eating patterns by providing healthy snacking alternatives in convenient vending locations across America. Specializing in placements in schools, hospitals and businesses, Vend Natural currently operates more than 550 machines in 22 states and the District of Columbia with plans for significant growth over the next several years.
The company is known for its innovative and environmentally-sensitive vending machine design offering state-of-the art, dual temperature-zoned, energy efficient machines that hold a large variety of both natural organic snacks and beverages. Vend Natural is also known for its fresh, bright, signature machine graphics featuring large, appealing illustrations of grapes, raspberries and its tag line, "Snack Better. Live Better." Vend Natural was awarded Entrepreneur of the Year award in Maryland for 2010. For more information, visit http://www.vendnatural.com.
###