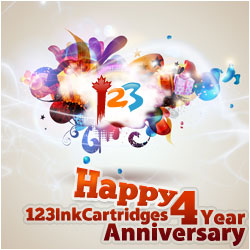 123inkcartridges.ca thanks all of our associates, customers for helping us to reach this incredible 4 year milestone.
Montreal, Quebec (PRWEB) September 23, 2011
This September, 123inkcartridges.ca, the Canada No.1.online ink store celebrates its 4th anniversary. Since its founding on September 23rd, 2007, 123inkcartridges.ca has been offering customers as many kinds of cartridges as possible at the best price and became the 'first think about' online store for cartridges, printing supplies in Canada.
Based on experiences in aftermarket printer supplies industry, Jack Zhan and his business partners created 123inkcartridges.ca in Montreal in 2007.Within 4 years, the company has grown tremendously from one office to 2 branches in both Montreal and Vancouver and serves the needs of both regular and business customers through the website 123inkcartridges.ca. In 2008, 123InkCartridges.ca reached the top ranking position on Google search engine and over the past four years, the company delighted to see a sustained double-digit growth in its annual revenue.
Committed to making it easy for customers to buy a wide range of relevant products, in May 2010, 123InkCartridges.ca was seeking to expand its business to other sections besides printing supplies, such as electronic accessories, computer parts, office supplies, HDMI cables and iPhone/iPad accessories. With the newly added categories, the company has largely increased market penetration ranging from electronic accessories to office supplies. In 2010 autumn, 123inkcartridges.ca has officially announced the 'on-going' 24 hours customer service. Also this year August, the launch of French website has opened up a whole new market and is aiming to provide customers 'Francophone' a better service.
"123inkcartridges.ca thanks all of our associates, customers for helping us to reach this incredible 4 year milestone," Says Jack Zhan. "We have always worked hard to ensure that we bring the best shopping experience to our customers. Yes, we have expanded our facility, our team, our service offerings, but what has not changed, and never will, is our commitment to our customers: best products at best price, secure shopping, fast delivery and excellent customer service. The 4th anniversary is a reason for celebrations. We will continue to strive towards maintaining and enhancing the trust of our customers, as we work toward another 4years or 40 years." As part of the anniversary celebration, 123inkcartridges.ca announced to offer huge promotions to during the month of September.
About 123inkcartridges.ca
Since established in 2007, 123inkcartridges.ca has quickly become one of most popular online sources for printer ink & toner cartridges, HDMI cables, iPhone Accessories and iPad Accessories in Canada. The company's headquarters is located in Montreal, Quebec and has warehouses in both Montreal and Vancouver that ship all over Canada and the United States. More information about the company could be found at http://www.123inkcartridges.ca/
###