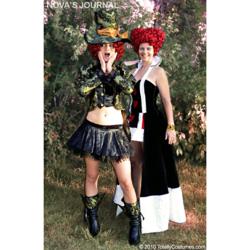 TotallyCostumes.com is happy to carry a large variety of Alice in Wonderland costumes so that there is something for everyone.
Mancos, CO (PRWEB) September 20, 2011
The selection of Alice in Wonderland Costumes continues to grow at TotallyCostumes.com, which now has over a hundred different styles. With characters from the classic 1951 cartoon and the 2010 film directed by Tim Burton, kids and adults can transform into their favorite character from Disney's Alice in Wonderland.
There are many Alice in Wonderland costumes officially licensed to the 2010 Disney film by Tim Burton. With styles inspired by the film's costume designer, Colleen Atwood, movie fans can find replicas to the Elizabethan- and Edwardian-era versions of the Mad Hatter as worn by Johnny Depp and the Red Queen as worn by Helena Bonham Carter. The Prestige Mad Hatter Costume includes a jacket with faux shirt front, pants, bow neck scarf and signature top hat with attached hair. The Deluxe Alice in Wonderland Costume for women includes a long blue dress featuring black button details, puff sleeves, antique style lace around the neckline, a full skirt petticoat and striped glovettes. The women's Deluxe Red Queen Movie Costume includes a long dress featuring a cinched waist, elaborate high collar, full skirt petticoat and crown. There are traditional styles for men, women and kids and sassy versions for women looking for a more sexy approach.
With the club scene growing in popularity, a clubwear style of Alice in Wonderland costumes has been introduced by J Valentine. TotallyCostumes.com is happy to be carrying this unique and sexy line of Alice in Wonderland costumes with clubwear appeal. They are celebrating the addition of J Valentine to their selection by offering free shipping on the line. These styles include the popular classic pink and purple Cheshire Cat costume and the newer gray and blue Chester the Cheshire Cat Costume. Other styles from J Valentine include The Red Queen, Court Queen of Hearts, Palace Alice, After Party Alice and Fashionably Late White Rabbit costume.
TotallyCostumes.com is happy to carry a large variety of Alice in Wonderland costumes so that there is something for everyone. The consumer can find different styles that include classic storybook, dark and twisted, sassy and sexy or cute and fun. Goth style characters continue to be a popular trend during Halloween. To answer the demand of the dark, black and more evil themes, they are offering Malice in Wonderland, Dark Alice, Red Queen of Broken Hearts, the Wicked White Rabbit and Dark Mad Hatter costumes. Alice in Wonderland costumes have never been more dark for Halloween as they are for the 2011 season.
Always wanting to offer ways for their customers to enhance their costumes, TotallyCostumes.com also offers Alice in Wonderland costume accessories. Alice in Wonderland accessories allow the consumer to add detail to their costume to create a unique one-of-a-kind appearance that is all their own. Accessory additions include an Alice Wig for kids, furry March Hare Headpiece, Cheshire Cat Costume Shoes by Funtasma, Men's vintage Mad Hatter Shoes, Striped Kingsleigh Gloves, Chester the Cheshire Cat mask, Striped Cheshire Cat Fur Legwarmers and American McGee's Mad Hatter Hat to name a few. Alice in Wonderland wigs, shoes, costume jewelry and hats will allow customers to create a unique look. One of the most popular accessories include the Cheshire Cat Fur Hood and Leg Warmers, Red Queen Wig, Mad Hatter Top Hat with Orange Hair, Alice Kingsleigh Wig and the Clock Purse.
About the Company:
TotallyCostumes.com, a leading retailer of Disney costumes and costume accessories for all occasions, makes sure the party never stops! This e-commerce costume retailer believes in carrying a large selection of high quality costumes in all sizes, styles and themes to fulfill any party, costume or event requirement. They have a dynamic team that works together so their customers receive their order quickly. Their friendly customer care team is dedicated to providing their customers with diligent service while their shipping facilities work efficiently in shipping your order out as quickly as possible.
###