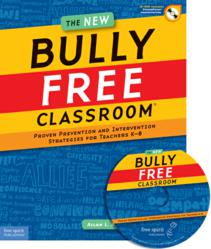 It's not enough to stop the bullying that's already happening; we also need to keep students who aren't yet involved in bullying from starting down that road.
Minneapolis, MN (PRWEB) September 21, 2011
Free Spirit Publishing presents a revised, updated, and expanded edition of Dr. Allan Beane's ground-breaking bullying prevention and intervention resource. The New Bully Free Classroom®: Proven Prevention and Intervention Strategies for Teachers K–8 (Free Spirit Publishing, $39.99) offers over 110 prevention and intervention strategies for teachers of kindergarten through eighth grade. This updated edition takes a closer look at what bullying is, places renewed emphasis on the role (and power) of bystanders, presents a range of new examples and scenarios, and more thoroughly addresses the issues of cyberbullying—including specific technologies, such as Facebook and texting.
Bullying in school is nothing new—kids who don't "fit in" have long been the object of taunting and ostracism. Since the initial publication of The Bully Free Classroom in 1999, awareness about bullying has increased dramatically, and research has helped us understand it better.
The New Bully Free Classroom equips educators with the current facts on bullying and addresses the growing problem of cyberbullying. The book's focus is in line with current research that shows witnesses (bystanders) to bullying are as strongly affected by bullying as targets, and that these witnesses have the most power to prevent and end bullying.
The New Bully Free Classroom has a dual emphasis of intervention and prevention. Beane writes, "It's not enough to stop the bullying that's already happening; we also need to keep students who aren't yet involved in bullying from starting down that road." Beane adds a preface about the tragic story of his son, Curtis, who was bullied as a child—the driving reason behind Beane's work against bullying.
The New Bully Free Classroom is based on the philosophy that all children have basically good hearts, all children are hurt by bullying, all children respond differently to bullying, and bystanders are the most important key to ending bullying. The new edition moves away from using labels that typecast kids, such as bully and victim, and instead, focuses on bullying behavior. The four sections of the book, titled "Create a Positive Classroom," "Empower Bystanders to Become Allies," "Help Targets of Bullying," and "Help Kids Who Bully," contain revised and updated existing activities, as well as new activities including:

Teach Cyberbullying Prevention
Build Awareness About Relational Bullying
Help Bystanders Understand Their Role
Give Bystanders Assertiveness Skills
On-the-Spot Responding
Help Students Self-Assess Cyberbullying Traits
The book includes a CD-ROM with all of the book's 42 handouts—many of which are customizable, 5 bonus handouts especially for early elementary classrooms, and a customizable PowerPoint presentation for professional development and staff training.
For K–8 teachers, counselors, and youth workers • softcover • US $39.99 / CAN $43.99 • 192 pp. • ISBN 978-1-57542-382-1
About the author
Allan L. Beane, Ph.D., is a former classroom teacher and university administrator. He develops bullying prevention programs for schools and is a highly sought-after speaker on the topic. He has presented keynote addresses, presentations, and workshops to school districts, organizations, colleges, students, parents, medical personnel, and law enforcement officers throughout the United States. His down-to-earth speaking style, inspirational stories, and practical strategies appeal to audiences everywhere. He also offers expert support to those who deal with school violence. Allan and his wife live in Murray, Kentucky.
About the publisher:
Headquartered in Minneapolis, Minnesota, Free Spirit is the leading publisher of learning tools that support young people's social-emotional health and their educational needs. Free Spirit's mission is to help children and teens think for themselves, succeed in life, and make a difference in the world.
###