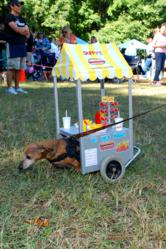 Atlanta, Georgia (PRWEB) September 20, 2011
The "Doxie-Lama." A herd of "Doxens." A "Flamenco Dachshund Dancer." These are just a few of the Halloween costumes dachshunds will be parading around in at the 2011 DREAM Rescue Howl-O-Weenie Festival, an annual fund-raising event held to improve the lives of abandoned dachshunds in Georgia that need veterinary care and new forever homes.
Held on Saturday, October 1 from 10 AM to 5 PM at the Liane Levetan Park at Brook Run, 4770 North Peachtree Road in Dunwoody, the festival will give dachshunds a chance to compete in a variety of contests including Costumes, Tail Wagging, Face Licking, Howling, Bobbing for Hot Dogs, and of course, a Dachshund Dash Race.
"Howl-O-Weenie attracts not only dachshund owners, but dog-lovers of all kinds who enjoy the sight of hundreds of dachshunds in creative and elaborate costumes," said Ivy Carruth of DREAM Rescue. "While we focus on having fun at the event, our primary goal is to promote awareness of the needs of abandoned dachshunds, and raise money to help those in shelters through no fault of their own."
In addition to the contests, Howl-O-Weenie will feature bluegrass artist Roxie Watson, a vendor market featuring dog-related items such as artwork, dog treats and pet accessories, "pet-icures" and microchipping, and hot dogs for lunch. The day is capped off with an exuberant – and sometimes exhausted – Doxie Hokey Pokey.
For a complete schedule of the day's activities, and directions to the park, visit http://www.dreamrescue.org/HowlOWeenie.
About DREAM Rescue
Each year, Dachshund Rescue, Education, Awareness, and Mentoring (DREAM) rescues approximately 175 dachshunds from area shelters. The non-profit organization provides medical and emergency care to abandoned, abused or unwanted dachshunds including spaying/neutering, vaccinations, heartworm treatment and a variety of other medical procedures. All rescued dachshunds are cared for in DREAM foster homes until a permanent and loving home can be found. Howl-O-Weenie was started in 2003 to meet the goal of making significant improvements in the lives of needy dachshunds in the Atlanta and North Georgia area. The event proceeds provide ongoing financial assistance for veterinary expenses and emergency medical situations. DREAM is a 501c3, all-volunteer organization licensed by the Georgia Department of Agriculture. For more information, visit http://www.dreamrescue.org.
###