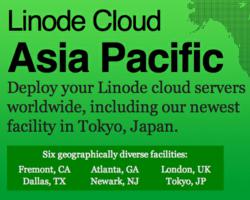 Our new facility will service the growing Asia Pacific demand for low-latency cloud services.
Galloway, New Jersey (PRWEB) September 19, 2011
Linode today announced a broad expansion of its cloud hosting services for customers in the Asia Pacific region with the opening of a new facility in Tokyo, Japan. Any company with customers or business in the Pacific region can now leverage the Linode suite of services to build and run their applications in the cloud. The newly launched Tokyo facility is the first Asia Pacific location for Linode, and is available now.
The new facility will extend Linode's globally-integrated network of infrastructure services that currently serve over 50,000 customers around the world from centers based in London, GB, UK, Newark, NJ, USA, Atlanta, GA, USA, Dallas, TX, USA and Fremont, CA, USA. Linode expects that the new facility will be able to service its continued growth while providing additional geographic redundancy to customers.
Before Linode launched in early 2003, businesses and entrepreneurs had to choose between taking on the massive capital investment of purchasing dedicated servers, or the risk and lack of control that came with shared hosting. This choice meant either paying for underutilized capacity or not having complete control of their infrastructure. Many businesses spent valuable resources managing their own co-location facility while entrepreneurial developers' were limited by the constructs and expense of their development environment.
Over the past eight years Linode has changed the way entrepreneurs and businesses think about hosting infrastructure by enabling them to forgo incurring up-front expenses or long-term commitments. Today these businesses can turn capital expense into variable operating expense, control costs by scaling resources to meet real-time demand, and free up scarce engineering resources - all without sacrificing operational performance, reliability, or security.
The new Linode facility in Tokyo delivers all of the company's enterprise-class services, including Linode's secure Backup and Node Balancer services - capable of running diverse workloads across multiple delivery methods both public and private. "Linode powers thousands of customers in countries around the world, including startup developers, government agencies and enterprises," said Thomas Asaro, senior vice president of operations for Linode. "More and more, companies are realizing that they can save significant capital and innovate faster by using our cloud services."
Linode continues to increase customer options while making end-to-end management of its cloud platform easier to manage. The company's offering allows customers to expand production and other workloads like Web sites, batch processing, development, testing, and other initiatives while reducing deployment time from days to minutes via the automation and rapid provisioning afforded by Linode's API.
About Linode
Recently named by Inc. magazine as one of the top 500 fastest growing private companies in America, Linode delivers virtualized cloud services from six regions across the U.S., Europe and Asia to some of the most innovative companies in the world, such as The Onion and Creative Commons. The company's proven IaaS (Infrastructure as a Service) offering enables customers to deploy and manage Linux virtual servers in the Linode Cloud with the ability to scale deployments to meet business demands - paying only for what they use with no long-term commitments. For more information, visit http://www.linode.com/.
###