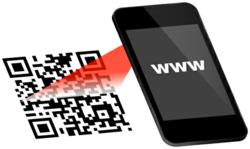 "To get participants to use their smart phones and scan QR codes, the content must be relevant and engaging." -Bill Chesney, Senior VP, Sales & Marketing
Minnetonka, MN (PRWEB) September 20, 2011
IntellimarQ employs QR codes and leverages data SCICOM's clients already have about their customer base to provide document recipients easy access to targeted information.
"To get participants to use their smart phones and scan QR codes, the content must be relevant and engaging, said Bill Chesney, Senior VP of Sales & Marketing at SCICOM. "It needs to be compelling enough to create an immediate call to action."
With SCICOM's IntellimarQ technology, a customer uses their smart phone or camera-enabled tablet device to scan QR codes within statements and other documents. Those codes contain Personalized Internet URL's or PURL's that direct customers to specific and actionable content based on information that SCICOM's client has about them. The codes can also link customers to pre-populated pages to "opt-in" for services such as electronic document delivery, increasing adoption rates for that service and potentially saving companies thousands of dollars in production and postage savings annually.
"We are expecting a significant increase in the use of IntellimarQ technology as our clients are made aware of the real opportunity to reduce mailing costs through e-adoption and drive new revenues through targeted content," said Steve Walmsley, VP of Client Relations. "We have also seen growing evidence to suggest that the use of this type of technology can increase customer satisfaction and decrease calls and emails to contact centers."
To learn more about IntellimarQ technology, contact your SCICOM Account Manager today, or call 1-877-7-SCICOM.
About SCICOM Data Services
SCICOM Data Services provides data processing, document creation, print output, electronic document delivery and mailing services to the financial, insurance, retirement, healthcare, manufacturing, distribution, retail and utility sectors. A SAS 70 Type II and HIPAA-compliant firm, SCICOM Data Services specializes in critical client communications for Fortune 500 companies across the U.S.
SCICOM Data Services, located in Minnetonka, MN, was founded in 1959 and is a privately held, employee-owned company. For more information visit http://www.scicom.com
For Media Inquiries:
Brian Shepley, Marketing Director, (952) 936-4147
For Client Inquiries:
Bill Chesney, Senior Vice President, Sales and Marketing, (952) 936-4181
###