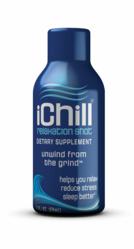 Irving, Texas (PRWEB) September 20, 2011
Stress knows no age limit, bounds or restrictions and can affect the entire family, whether young or old. Surprisingly, stress also affects more than just a person's mood, it can take a toll on their overall health and lead to additional physical issues.
According to the American Institute of Stress, 75-90% of Primary Care Physician visits can be attributed to stress related problems. Where does that place the modern American family in the stress cycle? Stress affects children and parents alike, whether it's a hectic, maddening day at the office, cramming for a big exam or financial woes burdening a household. Until now there has yet to be a safe, family-friendly, effective and natural stress solution; the now solution is iChill.
iChill is an innovative 2oz. shot comprised of natural ingredients proven to relax and restore the body to its natural balance. Packed with essential nutrients, such as vitamins B and C, Melatonin, Valerian root and Rose Hips, iChill is the healthy alternative to sugary, caffeine laden drinks that offer a burst of energy only to result in a crash later. Stress is known to affect sleep patterns as many people harbor stress well into the night, determining low energy for the following day. Drinking a delicious Blissful Berry 2 oz. iChill 30-40 minutes before bedtime can help the body relax and naturally fall into a deep restorative sleep after a long, intense day without addictive medication. Melatonin is known to help manage circadian rhythms after a hectic day; Valerian root has been used for centuries as a natural sedative to offer easy sleep; Rose Hips contain Vitamin C to help relieve exhaustion, and B vitamins can boost mood, ease stress and promote increased cell metabolism.
Health conscious individuals need not worry; iChill contains zero calories, carbohydrates and sugar to slow you down. Ideal for busy moms, active dads, study-oriented kids and college students alike, iChill can help to unwind from the grind.
In addition to stress-related sleep issues, iChill is also ideal for jet-lag, night time hot flashes, jitters and more.
Sold by the case for the whole family or in packs of 2, iChill fits in your bag and is safe for airport travel. For more information or a store locator please visit http://www.ichill.com.
About iChill
iChill is the brainchild of entrepreneurial brothers Greg and David Figueroa who have been touted by Entrepreneur Magazine as among the hottest young entrepreneurs in the country. The Figueroa's iChill is leading the relaxation drink trend in the growing beverage market. The idea for iChill was sparked by the energy drink boom currently occurring in the United States. Looking to create something completely original in the beverage industry, the brothers concocted the opposite of the popular energy shot, the relaxation shot. After research and development, the Dallas and New Orleans-based entrepreneurs created the iChill relaxation shot, an entirely new way for people to unwind and relax from the day-to-day grind.
EDITOR'S NOTE: For more information about iChill, or to arrange to speak with a company spokesperson please contact Nancy Trent or Pamela Wadler at 212-966-0024.
From:
Nancy Trent/Pam Wadler
Trent & Company, Inc.
594 Broadway - Suite 901
New York, NY 10012
212-966-0024
pam(at)trentandcompany(dot)com
For:
iChill
###