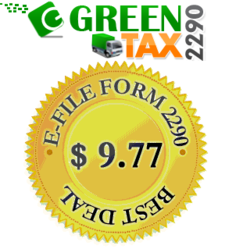 efile2290 - save money and environment by going green
(PRWEB) September 20, 2011
Greentax2290.com is market leader in providing innovative web based technology for electronic tax filing. It's environment friendly and saves money. Greentax2290.com offers 2290 e file and e delivery and it's geared towards green filing. Tax payer can still submit their 2290 tax form as we are already certified for 2290 form for the tax year 2011.
Congress has approved the extension of 2290 tax until Sept 30, 2012, the Internal Revenue Service issued a temporary regulation is still in effect that postpones to filing until November 30, 2011 the due date to file Form 2290 for the tax period beginning July 1, 2011 for vehicles used during the months of July, August and September, 2011. If a return for the tax period beginning July 1, 2011 is filed and payment submitted before November 1, 2011, the IRS will not provide a receipted Schedule 1 (Form 2290) as proof of payment until after November 1, 2011.
The state vehicle registration offices will continue to accept Schedule 1 of Form 2290 for the period July 1, 2010 thru June 30, 2011 for any application for state registration occurring during the months of July, August, September, October and November, 2011. However, tax payer must still file a return and pay any tax due once the form is available. The IRS will monitor filings of Form 2290 for the tax period beginning July 1, 2011 in 2012.
Our 2290 e file service is designed for 100% e-file (2290 form) and e-delivery (schedule 1). Be part of green movement and file electronically to save the environment and money. Not just we are committed for 100% green e file, we also offer following features that no one has offered so far in the industry:
Free Sign Up: No credit card is needed for registration. No obligations sign up.
Free Tax Calculation: Shows tax liability, tax credits, tax difference due to weight increase, etc. before even one decides to pay the filing fee.
One Stop Shop Tax Prep – Look no further. ez2290.com offer lowest price, free unlimited e-file for all rejected returns, free VIN correction even if tax payer did not file with us original 2290 tax return, bulk upload, system audit check for data entry errors, IRS audit support, free schedule 1 by fax, free SMS, free schedule 1 email delivery and many more features. This is the most current and updated website for all 2290 tax filing needs.
Self-Service – If tax payer knows how to use internet one could use our website with the help of easy to navigate menu and wizard designed for the trucking workforce who is always on move.
Total Care: We do it all for tax payer and filers. From start to finish IRS Form 2290 tax filing is done, that even includes audit shied for any unexpected audit or query filer may get from the IRS. Not just we will file tax return on tax payer's behalf our service also includes response to the IRS query.
Discounted Price: Deep discount is offered to Accountants, Tax Preparer, Registration Service Provider, Insurance Carriers, Large Fleet Owners, other brokers/services provider and absolutely there is no setup fee to sign-up with GreenTax2290.
Lowest Pricing – Starts at $9.77 per return, check out our pricing.
Free Services – Free VIN correction, Free SMS, Free Signup, Free Tax Calculation, Free SMS Alert, Free Bulk Upload and Unlimited Free efile for rejects.
Single Sign-on: Use Facebook credentials to login to file 2290 form.
Dedicated Account Manager: Offered for the large volume tax filers.
Responsive Support – World class service (WCS) comes at no additional cost. Our quality response from tax pros that uses multi-channel such as phone, chat, email.
Please Contact: Toll Free Phone: 800-578-2290 | Toll Free Fax: 877-326-7747
Email: WeCare(at)GreenTax2290(dot)com | Website: http://www.greentax2290.com | http://www.trsholdings.com
# # #