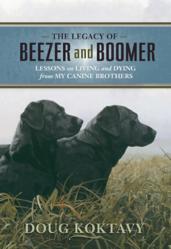 If you think a book about two dogs dying is too sad to read, think again.
Denver, Colorado (PRWEB) September 20, 2011
A groundbreaking book about two dogs dying garnered a glowing review from the Best Friends Animal Society in its September/October 2011 magazine. "The Legacy of Beezer and Boomer: Lessons on Living and Dying from My Canine Brother" by Doug Koktavy was published in 2010 and, compared to many fast-out-of-the-gate pet books, is still going strong.
It could be due to its unique twist on an age-old, universal theme. "What sets his memoir apart from the hundreds of others I have read," says Best Friends Magazine reviewer Sally Rosenthal, "is the sense of unfolding wonder and even joy amid the very real sadness of shepherding Beezer and Boomer on their paths from earth to life beyond."
Stating that the book is filled with surprises, the reviewer adds: "As a driven attorney steeped in the realistic, Koktavy found his perspective and beliefs changing when his dogs became terminally ill. Deciding to provide at-home care and to fill each remaining day with as much happiness as possible, he opened his heart and mind to the life-affirming lessons Beezer and Boomer taught him. The medical treatment he sought and followed, coupled with the spiritual aspects of care, such as animal communication, enhanced the quality of life for both dogs and man.
"If you think a book about two dying dogs is too sad to read, think again. Koktavy's story is actually one that encompasses the circle of life with all its heartfelt emotions, the purest of which is love," Rosenthal writes.
Author Koktavy says that he has been in touch with numerous readers and knows the book is striking a chord with those who are going through what he went through when his dogs were dying. "This is a really difficult emotional time for so many people, and my book provides some help with that," he adds.
"Before The Legacy of Beezer and Boomer, there were no other books for people going through the emotions of fear, guilt, powerless and depression that so often occur before a beloved pet passes. I wrote about the strategies to deal with this anticipatory grief I learned from my dogs. A lot has been written about grief after a death, but so much more can be done to help your pet and yourself during the illness. Decisions need to be made, and life needs to go on, yet our emotions get in the way. We end up squandering these last few months or days by feeling bad when what we should be doing is just staying present and appreciating and loving our pets," says Koktavy.
Conquering fear and guilt and learning to live in the present are just two of the lessons from the dogs. Doug's story begins with a pronouncement from his veterinarian that Beezer has ninety days to live. Shocked and unable to come to grips with the knowledge that he suddenly is losing his best friend, Doug grows frantic with fear. His work and his own health begin to suffer as he chastises himself over what he might have neglected to do for his dog. What follows are some of the lowest lows and highest highs of his life as he says goodbye first to Beezer and then to his brother Boomer.
The list of book awards, including four golds, that The Legacy of Beezer and Boomer has achieved is impressive. These include: Dog Writer's Association of America, Finalist, "Care and Health"; USA Book News: National Best Books 2010 Awards, Finalist, "Best New Non-Fiction" as well as Finalist, "Animal/Pets: Health" and Finalist, "Self-Help: General"; Writer's Digest, Self-Published Book Awards 1st Place "Life Stories"; National Indie Excellence Award 1st Place, "Animals/Pets"; Next Generation Indie Book Award 1st Place, "Memoir" and Finalist, "Animals/Pets"; Eric Hoffer Book Awards, Honorable Mention, "Self Help/Spiritual"; Living Now Book Awards, Silver; Nautilus Book Awards, Silver, "Grieving, Death & Dying"; and Colorado Independent Publishers Association, 1st Place EVVY, "Self-Help" as well as Merit Award, "Memoir" and Merit Award, "Spirituality/Religion."
Doug Koktavy is an attorney in Denver, as well as an author, publisher and workshop presenter. He has given workshops on anticipatory grief and loss to the American Humane Association, the Argus Institute at Colorado State University Veterinary Teaching Hospital, and the Sixth International Conference on Communication in Veterinary Medicine.
He is a Certified Counselor, Association for Pet Loss and Bereavement and a member of the Bone Cancer Dogs Yahoo Group. He also is on the Board of Directors of Bone Cancer Dogs, Inc., a New Jersey nonprofit corporation and is a volunteer with Safe Harbor Labrador Retriever Rescue. In his spare time he enjoys biking, running and taking walks with his black Lab, Dory.
The Legacy of Beezer and Boomer: Lessons on Living and Dying from My Canine Brothers, published by B Brothers Press, 2010, is a 328-page hardcover book with illustrations by nature artist Chris Smith. It is available at http://www.BeezerAndBoomer.com, Amazon.com and through Independent Publishers Group distributors.
###