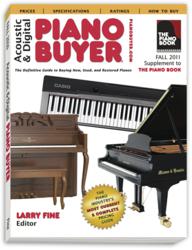 A piano can be one of the most expensive--and difficult--purchases most households will ever make.
Jamaica Plain, Massachusetts (PRWEB) September 21, 2011
Brookside Press announces the release of the Fall 2011 issue of "Acoustic & Digital Piano Buyer," successor to the well-known reference "The Piano Book," by Larry Fine, which, since 1987, has been the principal piano buyer's guide for consumers in the U.S. and Canada.
"Acoustic & Digital Piano Buyer" is a 280-page, semiannual publication devoted to the purchase of new, used, and restored pianos and digital pianos. Available free online at http://www.PianoBuyer.com, it can also be purchased in print from the website and in bookstores.
"Every year, tens of thousands of new acoustic pianos, made by 30 builders in a dozen countries under 70 brand names, are sold in the United States. No wonder buying a piano is one of the most difficult purchases a consumer will ever make," notes Larry Fine, Editor of 'Piano Buyer' and author of 'The Piano Book: Buying & Owning a New or Used Piano' (Brookside Press), the industry's standard consumer reference work since its inaugural publication in 1987. "Though the quality of pianos has never been better, the experience of researching and purchasing a piano can be overwhelming because the differences among brands can be subtle. 'Piano Buyer' exists to make shopping for a piano easier and more enjoyable."
"Piano Buyer" is a hybrid book/magazine. The "book" part consists of a collection of how-to articles on the many aspects of buying a piano, such as: "Acoustic or Digital: What's Best for Me?," "Piano Buying Basics," "The New-Piano Market Today," "Buying a Used or Restored Piano," "Buying a High-End Piano," "Buying Pianos for an Institution," "Buying a Digital Piano," and "Buying an Electronic Player-Piano System."
The "magazine" part consists of feature articles that change with each issue to cover areas of special interest; and piano brand reviews and ratings, and piano prices, updated for each issue, for virtually every brand and model of acoustic and digital piano sold in North America.
Features in the Fall 2011 issue include a review by concert pianist Judith Cohen of five of the best professional-size grands made in China; an article by piano technician Sally Phillips on selecting a performance piano for concert hall or home; and an article by piano technician Steve Brady on the use of nontraditional materials in pianos.
Also on the PianoBuyer.com website are two searchable online databases: The Acoustic Piano Model & Price database of 3,000 models will help consumers home in quickly on instruments that match their requirements for size, furniture style, and budget. The Digital Piano Prices and Features database can be searched on the basis of price and 11 different digital-piano features and specifications.
The print version of "Acoustic & Digital Piano Buyer," in full color on glossy paper, is availabe from the PianoBuyer.com website or through bookstores. Distributed to the book trade by IPG. ISBN 9781929145324. List Price: $24.95
###