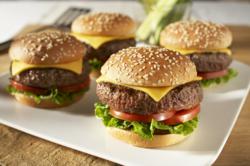 Boise, Idaho (PRWEB) September 20, 2011
For years, the "slider" trend has hit menu boards across the world, tempting folks with a smaller burger option compared to the full-size meal-deal. But after dining on these cute little samples, many were left looking for more beef and less bun. Snake River Farms is excited to introduce their American Kobe Beef Gourmet Hamburger Thick Slider Patty - the perfect addition to any appetizer menu or bar food fare.
After the introduction of the Snake River Farms $41 American Kobe Burger in New York in 2003, Snake River Farms has continued its focus on creating a rich and flavorful hamburger in multiple configurations for all types of foodservice. Snake River Farms realized the slider market was missing its target to provide an incredible eating experience, don't sacrifice flavor for size, celebrate it!
"Our customers have come to expect the best from us, offering them the highest quality beef with real-world menu applications," said Jay Theiler, Snake River Farms Executive Director of Marketing. Theiler continued, "And part of that is knowing what the consumer wants – flavor, not just a smaller patty."
The Snake River Farms American Kobe Beef Gourmet Hamburger Thick Slider is made from 100% American Kobe Beef, retaining superb flavor and exceptional juiciness. Snake River Farms special patented process allows cooking to retain 50% more juice than regular hamburger by providing space within the meat for juices to cook into and settle. Being thicker than any little slider around, it is a full 3.2 ounces of flavor.
Contact your local food distributor or Snake River Farms for this new product, available now.
SNAKE RIVER FARMS is part of a family-owned business based in Boise, Idaho. In addition to its American Kobe Beef and gourmet hamburger patties, Snake River Farms is also known world-wide for its Kurobuta Pork, 100% Berkshire Pork that is also succulent and intensely flavorful. Snake River Farms takes great pride in producing the highest quality meats in the U.S. through a commitment to good stewardship including the support of America's specialty farmers and ranchers, humane treatment of all its animals, and company protocols designed to preserve renewable resources. Please visit http://www.snakeriverfarms.com for more information.
###