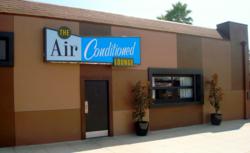 "For the first time, we now have a street-side exterior that matches the beauty of the interior."
San Diego, CA (PRWEB) September 21, 2011
The legendary AIR CONDITIONED Lounge, located on the border of the bustling North Park, University Heights and Normal Heights neighborhoods of San Diego, recently completed a major remodel to its exterior, as well as many seating and audio/visual updates to its interior.
The AIR CONDITIONED Lounge has been a leading nightclub and neighborhood lounge for residents of this very diverse part of San Diego since its doors opened in May 2004. Featuring a retro-inspired décor harkening back to the James Bond days of Sean Connery, the AIR CONDITIONED Lounge has featured the region's best DJs spinning in progressive house and old-school genres.
"It was time," says owner and co-founder Gary John. "Years ago it was cool to have an underground venue that no one could find," he laughs. "But now, the steady pace of neighborhood upgrades has made it necessary that we update our image. For the first time, we now have a street-side exterior that matches the beauty of the interior. Good-bye abandoned-building facade, hello sunshine."
The face of the building now features a large garage-style window that allows for patrons to enjoy stiff cocktails and a strong breeze at the same time. The Mondrian design on the façade resembles a box of chocolates, and the Spanish tiles of its roof have been removed in favor of lower profile slate roofing. Additionally, the new logo of the venue has been replicated in a large lighted sign directly above the door. Towering black bamboo bordering the large window completes the modern look of the new exterior.
The interior sports new custom booths, upholstered plasma screens and an audio/visual matrix system to match its premium dance club sound. Many other design touches have been integrated over the last three months that may be hard to spot. "The last thing I wanted was for guests to walk in and say 'Hey, why did you do that?'" John adds. "Hopefully, all the changes will appear as if they needed to be done."
According to John, the updates are necessary to improve his bottom line. "We're planning on capturing a day business we were incapable of having prior to these renovations; events such as business meetings, luncheons and after-work mixers complete with catering and music. In a recession as deep as this one, its critical to find ways to expand where the revenue originates."
A series of Re-Grand Openings to celebrate the changes will be held this Fall. Check the company's website at http://www.TheACLounge.com for announcements and dates.
The AIR CONDITIONED Lounge is now open on weekends at 10 am and has the full NFL Ticket package from DirecTV to broadcast on its three 51" plasma and 60" LED screens. Doors open at 4pm Monday through Friday.
More information about the lounge can be found at http://www.TheACLounge.com and http://www.Facebook.com/ACLounge.
Gary John established the AIR CONDITIONED Lounge brand in 2004. He and his partners eventually expanded the brand to include two nightclubs in Los Angeles and one in Louisiana. Divested of these other venues, John is focused on constant improvement to the original AIR CONDITIONED Lounge and deeper involvement in the surrounding communities of San Diego. He can be reached at (619) 501-9831 or Gary(at)TheACLounge(dot)com.
###