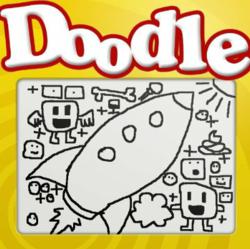 Imagine keeping your children busy in the car or a restaurant, creating something with their own hands instead of playing a flashy video game or watching internet video
Bellevue, Washington (PRWEB) September 22, 2011
16 Hands, an application development firm in Bellevue, Washington, is pleased to announce that their first app for Kindle, Doodle for Kindle, has been downloaded by thousands of Kindle owners just a few weeks after launch.
"The response from Kindle users to Doodle for Kindle validates the need for non-book content on the Kindle device," says 16 Hands spokesperson Alex Weinstein. "The Kindle offers tremendous opportunity for creative use. We're thrilled to bring the first application of this class to the e-reader."
A great drawing tool for kids, Doodle makes creating line art easy and fun on a Kindle device. Users can leverage Kindle's 5-way control or keyboard to create line art on the Kindle, and use drawing features that include a press-and-hold to draw mode; continuous mode to press once to start drawing and press again to stop; or step mode to draw short, precise segments with each press.
The Kindle has dozens of non-book, magazine or newspaper applications available for download, ranging in price from free to a few dollars. "We decided to offer Doodle at $.99, to make it easy to justify the investment," says Weinstein. "Imagine keeping your children busy in the car or a restaurant, creating something with their own hands instead of playing a flashy video game or watching internet video," he continues.
When asked if his company plans to develop additional applications for the Kindle, Weinstein says: "Absolutely. Now that we've gotten familiar with the Kindle platform, we hope to develop additional applications for the device. Scenarios that the Kindle is great for differ significantly from the mobile phones; it created a unique niche. It's a tremendous opportunity."
Doodle for Kindle is available directly from the Kindle device or online at the Kindle store.
###