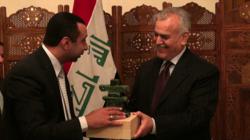 It is our responsibility not to remain silent with regard to the human rights violations and rights of the minorities in Iraq.
Toronto, Ontario (PRWEB) September 20, 2011
The first Canadian delegation to Iraq since the start of the war is being called a success, following their return to Canadian soil. Led by One Free World International founder Rev. Majed El Shafie, the delegation included Mr. John Weston, Member of the Canadian Parliament and Senator Don Meredith, Senate of Canada, both of whom joined the delegation as observers.
The mandate of the delegation was to discuss the human rights violations in Iraq and to open bridges of communication with Canada. High level meetings took place with the Vice President of Iraq, Iraq's Vice Prime Minister, President of the Iraqi Parliament, Minister of Human Rights, Minister of the Environment and Iraqi Foreign Affairs. In addition, the delegation met with Iraqi refugees and spoke with victims of last October's vicious attack at Our Lady of Salvation Church.
"It was refreshing to see the welcome our delegation received in the various meetings we attended," said Senator Meredith. "One Free World International is to be commended on its human rights mission to being about changes in Iraq and around the world." He also stated that "Canada is in a tremendous position to aid in the rebuilding of Iraq socially, economically and spiritually. We must not stand by and let this opportunity pass us by."
"Human rights are as important as economic aid and commercial engagement," said El Shafie. "One cannot survive without the other. It is our responsibility not to remain silent with regard to the human rights violations and rights of the minorities in Iraq. In the process of rebuilding Iraq, now is the time to build a strong human rights foundation to ensure a true democratic country with freedom of religion which is the foundation of all democracies. Without it, democracy fails."
For more information, contact Brian Mayes, Nashville Publicity Group, (615) 771-2040 or brian(at)nashvillepublicity(dot)com.
About Rev. Majed El Shafie
Rev. Majed El Shafie was arrested, tortured and sentenced to die in Egypt because of his Christian faith. Escaping to Israel, he was imprisoned until his eventual release a year and a half later. Today Rev. El Shafie lives in Canada and fights for those persecuted around the world. Pressuring governments, and challenging both world and spiritual leaders, Rev. El Shafie has not been afraid to put everything on the line to help those in need. The upcoming documentary Freedom Fighter tells his story. To view the film's trailer or to learn more about his One Million Voices Campaign, please visit http://www.freedomfightermovie.com.
# # #