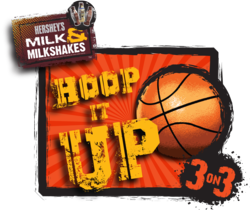 " I am pleased to have SnapSports as the Championship Floor in New York a very important test location for FIBA Hoop It Up." - FIBA Development Director, Kevin Bovet
Salt Lake City, UT (PRWEB) September 20, 2011
SnapSports® has been selected to provide the official Championship and Elite level basketball court for the first U.S.A. 3-on-3 Hoop it Up® Tournament with FIBA®, the world's governing body for the sport of basketball. Players will be competing on the multi-patent SnapSports BounceBack® basketball court, the industry's top rated outdoor court in performance and safe play. The event will be held September 24-25, 2011 in Brooklyn, New York, at Brooklyn's Baseball Stadium, MCU Park, Home of the Brooklyn Cyclones. SnapSports will be providing nearly 3,000 square feet of outdoor sports flooring for the 52' x 56' championship outdoor basketball court.
As an approved FIBA associate manufacturer with the most extensive modular sports flooring line-up in the industry, it was a natural choice for FIBA and the Hoop It Up® organization to choose SnapSports as the championship court for this event.
The SnapSports BounceBack® outdoor basketball surfacing, a multi-patent full suspension flooring system, has the highest shock-absorption rating of any modular sports surface in the industry. The multi-patented ShockLock® technology and the under-structure of the BounceBack® sports surfacing, provides a "cushion" effect easing impact to players joints while increasing ball response in sports like basketball and volleyball. With nearly four decades in manufacturing and supplying premium athletic surfaces globally, SnapSports® is recognized as the world's leader in premium modular athletic surfaces and outdoor multi-game courts.
" We were thrilled to learn FIBA and Hoop It Up choose SnapSports® as the championship court for this major U.S.A. event. A true testament to why SnapSports is recognized as world's leader in high-performance outdoor basketball courts and athletic surfacing." - Jorgen Moller, SnapSports.
Founded in 1989, the 'Hoop It Up' National Tour is the largest most recognized 3-on-3 basketball tour in the world, the 2011 National Tour will visit approximately 35 markets this year. One of the biggest differences between the 3-on-3 game and its 5-on-5 counterpart is that it's played on a half-court, where games consist of two 5-minute halves or are capped at 21 points—whichever comes first. The 3-on-3 game is fast paced with a 12-second shot clock, so teams can't stall if they build a lead and shots outside the 3-point arc are worth two points and baskets inside are a point.
FIBA Development Director Kevin Bovet stated, " I am pleased to have SnapSports as the Championship Floor in New York a very important test location for FIBA Hoop It Up."
FIBA, the international governing body of basketball, began an initiative a few years ago to have the game of 3-on-3 added as an official Olympic sport, in a similar fashion to volleyball, which features both beach and indoor. The end goal and hope is to have the 3-on-3 basketball game recognized in the 2016 or 2020 Olympic Summer Games. FIBA feels that not every country can assemble 12-person national teams because of the cost or lack of talent. However, there are many nations that can put together competitive 3-on-3 teams because it is less expensive to develop, train, and compete.
Based in Salt Lake City, Utah - The team at SnapSports® have been engineering, manufacturing and providing the world's leading outdoor game courts and modular athletic surfaces for nearly four decades! The team at SnapSports® pioneered the modular sports surfacing industry you see today and continue to develop the most advanced multi-patented modular sport surfacing and outdoor game courts for top athletes the world over. With unparalleled experience and a high performance product line, SnapSports® is the industries undisputed champion. SnapSports® manufactures 24 hours a day, 7 days a week, in their 100,000 square foot ISO 9001:2008 Certified facility and is supported by an authorized global network.
SnapSports® is the official provider of sport surfacing for the United States Futsal Federation, AAU Jam On It, Volleyball Festival, Special Olympics, 2011 World Police & Fire Games, AAU All Under One Roof and USA Team Handball. SnapSports® is an approved FIBA Associate Manufacturer – ISO 9001:2008 Certified for quality standards.
###