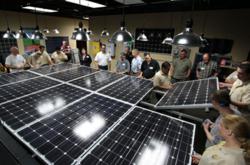 We really want everyone to pass!
Murrieta, CA (PRWEB) September 21, 2011
The inaugural Intro to Solar PV week-long class was taught this month at Ambassador Energy's headquarters in Murrieta, CA, winning rave reviews from its students, most of whom were licensed general contractors, roofers and electricians. Others included an Ambassador Energy employee and a student from a local college, who took advantage of the deep student discount offered by Ambassador Energy.
"We had a great time putting the curriculum together. I had a lot of personal input, as I vividly recall taking the class and test myself not so long ago," said Catherine Kelso, Director of Training for Ambassador Energy and NABCEP PV Installer certified. "We designed the class to be interesting, but to most importantly to cover the materials likely to be on the NABCEP EL test. We really want everyone to pass it. It is my personal mission."
At the conclusion of the training class, Ambassador Energy proctored the NABCEP EL test to those who opted to take it immediately. Results will be available within a few weeks.
Ambassador Energy will continue to provide many variations of solar PV training to the public in one- and two-day classes and to their family of Authorized Agencies, who train for three days as a part of their initial emersion into the solar PV industry. Once the Agencies complete training, they receive unlimited support, in the form of job walks, quote review, product education, sales coaching, marketing materials, client interfacing, installation supervision, and membership into a team approach to selling and installing solar appropriately and correctly.
Steve Fulgham, CEO of Ambassador Energy and NABCEP certified twice said, "I am urging all of the Ambassador Energy team to get one of the NABCEP certifications. We love our spirit of learning here and want to see many more certificates on the Wall of Fame!"
About NABCEP
Raising standards. Promoting confidence…The North American Board of Certified Energy Practitioners (NABCEP) is the "gold standard" for PV and solar thermal installation certification. Designed to raise industry standards and promote consumer confidence, NABCEP offers certification and certificate programs to renewable energy professionals throughout North America.
About Ambassador Energy
Ambassador Energy (AE) is a solar training and distribution company, with 78 Authorized Agencies operating in 17 US states. AE employs two NABCEP Certified Installers (Fulgham 031310-74 and Kelso 031310-124) and one NABCEP Certified PV Technical Sales professional (Fulgham 012911-35). AE provides a turnkey, consolidated platform of renewable energy training, support, product-agnostic distribution and evolving mindshare to a nationwide network of Ambassador Energy Authorized Agents, who are contractors and entrepreneurs augmenting their portfolios by offering renewable energy solutions to their clients.
Ambassador Energy offers their Agency program to qualified candidates. New Agency Training is offered approximately once every four to six weeks.
###