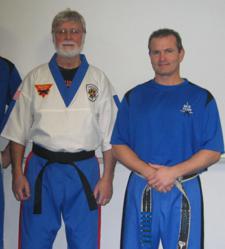 Baldwinsville, NY (PRWEB) September 22, 2011
While many of 73-year-old Joe Insel's peers are kicking back, Insel is kicking his way to a third-degree black belt—and away from health risks.
Insel has greatly improved the quality of his life and has noticed the difference between himself and his counterparts. "My peers are discussing medication plans," he said, "and I'm working on self-defense moves."
Insel was 69 years old and watching his sons train at Iannuzzo's Karate School when one of the trainers told him that he could be the "poster boy" for the school. Rather than dismissing the joke, Insel took it as a challenge. He embraced it because it would satisfy a life-long desire to stay in shape and at the same time, he could spend more time with his sons.
The retired educator began training in martial arts, specifically American Kenpo Karate. In the beginning of his training, Insel remembered that his peers at the karate school were kicking head-high or higher while his kicks were about waist high. After a few weeks the difference between Insel and the other karate students began to diminish. He began to feel confident about his training and was satisfied with his progress.
Insel quickly gained the respect of the members of the karate school as he continued his training. "No one laughs at me," he said. "Instructors and students alike support me. We are developing ourselves in a positive manner, and improving our quality of life. Who wouldn't want to do that?"
Now at age 73, Insel has completed the requirements for his second-degree black belt. He says that the black belt journey is "an added benefit" to the martial arts training. When asked if he plans on training for the third-degree black belt he replied "God willing."
Iannuzzo's Karate School is located in Central New York and has been dedicated to developing programs that help students reach their martial arts goals since 1990. The school offers training in martial arts, self-defense, weapons, boot camp, dumbbell/polymeric, Muay Thai, grappling and kickboxing.
Internationalkarateschool.com is designed for men, women and children of all ages and for martial arts enthusiasts who cannot take classes in the traditional environment . The program enables martial arts enthusiasts to earn black belts in the comfort of their own home and on their own time. To learn more about the online karate programs that are available please visit http://www.internationalkarateschool.com .
By Jackie Dresch
###