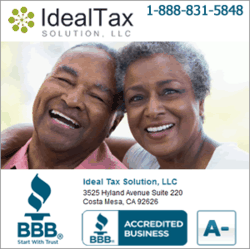 Ideal Tax Solution proudly boasts an "A" rating with the Better Business Bureau.
Costa Mesa, CA (PRWEB) September 20, 2011
Ideal Tax Solution is proud to announce an "A" business rating, given by the Better Business Bureau. "The Better Business Bureau sees trust as a function of two primary factors – integrity and performance. Integrity includes respect, ethics and intent. Performance speaks to a business's track record of delivering results in accordance with BBB standards and/or addressing customer concerns in a timely, satisfactory manner."
"We have years of experience and insight in successful negotiation with the IRS", said Richard Schultz, Certified Enrolled Agent for Ideal Tax Solution. Ideal Tax Solution has helped thousands of people in reducing or making their debt more manageable. "We pride ourselves in providing outstanding services to each individual client, which is reflected in our "A" rating with the Better Business Bureau" said Erin Doyle, Customer Relations Manager of Ideal Tax Solution.
When choosing a tax relief professional or firm, check credentials, reputation, experience, and get a feel for their level of customer service. The Better Business Bureau would be your first source of getting information as to a firm's credibility and customer service.
About the company: Ideal Tax Solution LLC is located in Costa Mesa, CA and provides tax negotiation services, preparation and is a collection defense specialist. Their Tax Attorneys, IRS Enrolled Agents, CPA's, Senior Tax Consultants have over 55 years of combined experience working to help American tax payers with the IRS and State Tax Agencies
###