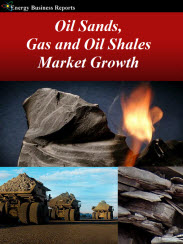 Shale gas could account for up to 46% of U.S. natural gas production by 2035
Phoenix, AZ (PRWEB) September 21, 2011
Oil Sands and shale gas have emerged as sources of unconventional petroleum resources. While Canada is a leader in the oil sands industry, the United States and other countries are catching up and developing oil sands in a bid to upgrade the bitumen source to synthetic crude oil according to a report by Energy Business Reports.
This report, Oil Sands, Gas and Oil Shales Market Growth, explores the tremendous possibilities offered by these three unconventional sources of energy, analyzes each source including an industry overview, extraction technology description, market potential forecast, and major player profiles.
The economics of oil sands and shale gas are also analyzed, as well as the environmental impact of extracting energy from these shale and sand formations.
Gas shales are a type of natural gas that is produced from shales. With the rising demands for energy in the world today, shale gas has become an important source of natural gas in not only the United States, but all over the world.
Oil shales are organic sedimentary rocks that contain a large amount of kerogen that can be converted into liquid hydrocarbons. While these are three different forms of unconventional gas sources, what is common among them is that the world is starting to use them more and more as energy demand skyrockets.
This report is for investors and researchers interested in learning about the market potential in Oil Sands, Gas Shales, and Oil Shales.
About Energy Business Reports:
Energy Business Reports is an energy industry think tank and leading source for energy industry information and research products. Details on all reports can be found at http://www.EnergyBusinessReports.com/shop/Oil-Sands-Gas-and-Oil-Shales-Market-Growth.html?v=1&itemid=3509&ref=prw or call us at 800-304-0345.
###