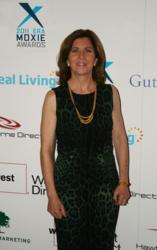 I've tried to run my business and my life with a feeling of service. I think this makes business that much more rewarding, and is the key to true success.
Las Vegas, Nevada (PRWEB) September 22, 2011
Katie Williams, President and Co-Founder of Ideal Living, received the 2011 Lifetime Achievement Award by the Electronic Retailing Association. She was honored during the Moxie Awards Gala on Thursday, September 15th, at the 2011 ERA D2C Convention at the Wynn Hotel, Las Vegas.
"I've been very fortunate because I've been surrounded by truly remarkable people. I like to find and cultivate great talent, and am grateful to my team, our vendors, and our partners around the world," said Williams as she accepted her award. "I've tried to run my business and my life with a feeling of service. I think this makes business that much more rewarding, and is the key to true success. I am especially grateful to Peter Spiegel, my partner in life as well as in our Ideal Living business."
Before Williams came on stage to accept the award, ERA gave an overview of Williams' leadership in building and shaping the electronic retailing industry -from her early years as an infomercial pioneer helping DRTV to be embraced by leading brands; to being among the first to develop TV shopping in international markets; on through to co-founding leading multi-channel marketer Ideal Living. Numerous industry colleagues gave testimonials about Williams' impact on the industry.
"She's a catalyst for change," said Ideal Living Co-Founder, Peter Spiegel. "She is truly a person who makes people want to achieve the best they can."
The Lifetime Achievement Award is presented to a deserving member of the ERA whose work has had a significant impact on the industry and has been acknowledged by other colleagues in the industry. Past winners include Billy Mays, Earl Greenburg, Rob Woodrooffe, Tim Hawthorne, Greg Renker, Joe Segel, Suzanne Somers, Mike Levey and Ron Popeil.
About Katie Williams:
Katie Williams is one of the pioneers of the infomercial and home shopping industry and one of the foremost experts in Direct Response marketing, with 27 years of experience in international and domestic direct marketing. She formed her advertising agency, Williams Worldwide, Inc. in 1987, quickly becoming the leader in the Direct Response TV industry.
Williams Worldwide bought DRTV media and created campaigns for an impressive roster of clients, including Philips Consumer Electronics, Estee Lauder, Hoover, Warner Music, Microsoft, VISA, QVC, HSN, Toshiba, Ronco, and Nordic Track.
Soon after, Williams seized the opportunity of introducing and applying these techniques in foreign markets, and expanded her company globally, creating Williams Worldwide Television (WWTV), an international direct response marketing company. WWTV was the first to air infomercials on some of the most powerful stations in Germany, Netherlands, Italy, Spain, Brazil, Mexico, Japan, and other countries and forged long-standing relationships with retail and direct marketing powerhouses in international markets.
Williams was a founding member of the industry's trade association (Electronic Retailing Association), and a member of its Board of Directors.
Williams was named "Entrepreneur of the Year" for the city of Los Angeles in 1991. Her company was ranked in the top five woman-owned businesses in Los Angeles County by the Los Angeles Business Journal for four consecutive years, and was chosen by Working Woman Magazine as one of the top women-owned companies nationwide for two consecutive years.
After selling Williams Worldwide and Williams Worldwide Television, she served as Executive VP of International Affairs for Sylmark, Inc., where she built their manufacturing and QC team, sourcing products directly from factories in China and Europe. She became President of Sylmark, Inc., in 2006, and particularly focused on its vision, strategy, and direct marketing operations. She also spearheaded the company's multichannel strategy, particularly the online channel.
About Ideal Living:
Ideal Living is a leading multi-channel marketer focused on transforming innovative ideas and breakthrough products into successful global brands. Ideal Living brands include Ideal Living™ consumer products, Envion™ home environment products and Therabotanics™ natural science-based supplements. Ideal Living™ state-of-the-art home, health and wellness products set new standards in both quality and ingenuity.
Through its direct channels, and in partnership with the nation's top retailers and leading international partners, Ideal Living brands have achieved over $3 billion in sales in over 50 countries worldwide.
Ideal Living is unique in the Direct Response industry because of its extensive engineering, industrial design, and product development expertise coupled with world class multi-channel marketing capabilities in DRTV, online, retail and international distribution. Its world class team of Direct Response industry pioneers has had many memorable successful campaigns including the AbSlide® ($250 million in worldwide sales), the Miracle Blade® ($200 million in worldwide sales), the Ultimate Chopper™ ($150 million in worldwide sales), and Walkfit Platinum Orthotics ($250 million in sales).
For more information about Ideal Living, go to http://www.idealliving.com/.
About the Electronic Retailing Association:
Representing a more than $350 billion market, the Electronic Retailing Association (ERA) is the only trade association in the U.S. and internationally that represents leaders of the direct-to-consumer marketplace, which includes members that maximize revenues through electronic retailing on television, online and on radio. ERA strives to protect the regulatory and legislative climate of direct response, while ensuring a favorable landscape that enhances e-retailers' ability to bring quality products and services to the consumer. ERA members include some of the industry's most prominent retail merchants, including Acorn Corporation, eBay, Discovery Communications, Gaiam, Google, Guthy-Renker Corporation, HSN, Jewelry Television, QVC, ShopNBC and Thane.
About the 2011 ERA D2C Convention:
The Electronic Retailing Association's 2011 ERA D2C Convention is the 21st annual show where the industry's top technology innovators, manufacturers, buyers and marketers meet to learn about the hottest trends in the direct-to-consumer marketplace and meet with partners and potential customers to seal critical business relationships. The event will feature more than 4,000 attendees and 120 exhibitors, a variety of education sessions on industry-related topics and expansive networking opportunities, as well as wide variety of events on the tradeshow floor.
# # #