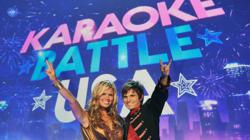 Cincinnati, OH (PRWEB) September 20, 2011
KWCUSA is proud to announce our national champions representing USA in world competition in Killarney Ireland. Cassandra Mae and Josh Scholl competed and claimed the title of Karaoke King and Queen in front of a national television audience Friday night on ABC's Karaoke Battle USA. They rose to the top of an outstanding competition and year for KWCUSA. Thousands of karaoke singers across the country competed at local competitions across the country and through online entries. They rose through local, state, and regional competitions. Karaoke Battle USA picked up coverage at KWCUSA regional level and broadcast the taped competition on the past 6 Friday nights.
The regional winners competing at the national championships included from the South – R.L. Bell and Charlotte Hicks, from the west -- Sammy Vijarro and Meredith McHenry, from the east – Creigh Riepe and Shantel Norman and from the north – Josh Scholl and Cassandra Mae.
Karaoke Battle USA was the first time in history that karaoke was presented on national television for what it truly is. Fifteen million karaoke singers across the country sing outside the home at least once a month and everyone is part of a karaoke family. Wendell Payne, President of KWCUSA says, "ABC did such a wonderful job of staying true to karaoke and the competition. It was difficult to do and still create a show that people would watch. Too often people want to see negative things and so much human drama or pain. ABC did a wonderful job editing and creating a wonderful show. I will be eternally grateful to everyone at ABC, especially Muriel Pearson."
The championship was held at House of Blues in Hollywood, California and the top four truly had a Karaoke Battle. Sammy Vijarro and Shantel Norman completed the top four and all of the competitors were winners.
The two champions had these comments. Josh Scholl said "To have a recording contract is a dream come true, one that I have never doubted would come to fruition with hard work and dedication. I am absolutely thrilled to share this victory with all my friends and family who have supported me and never questioned my aspirations. Thanks also to KWCUSA for creating this competition."
Cassandra Mae says, "KWCUSA and Karaoke Battle USA has opened the door for me. Everyone was so wonderful and the friendships I made while in LA mean the world to me. What a ride it's been! I can't wait to get to work!"
KWCUSA wrapped up the season with world competition in Ireland and will announce those results tomorrow.
KWCUSA does not know if there will be a second season of Karaoke Battle USA. Payne says, "We hope there will be a second season for Karaoke Battle USA. Even though the ratings were not as good as hoped for, there are a lot of factors that play into that including the day and time for the show. We hope that people who watched the show will contact ABC and let them know how much they liked it. "
About Karaoke World Championships USA (KWCUSA)
KWCUSA mission is to organize, facilitate, and manage a viable, impartial competition for the entire United States.
KWCUSA goal is to include as many possible singers from all states and territories of the U.S.A. and provide this opportunity to all amateur performers to represent our country at the Karaoke World Championships.
KWCUSA objective is to identify, prepare, promote true U.S.A. karaoke champions utilizing all of our organizations resources efficiently and effectively observing all guidelines established by the Karaoke World Championship Organization and to provide the due diligence required to facilitate our mission in its entirety.
KWCUSA is the only organization in the United States affiliated with the Karaoke World Championship organization. KWCUSA champions exclusively represent the United States in the only international karaoke competition
The Karaoke World Championships (KWC) is the largest and most prestigious international karaoke competition in the world. This multi-cultural international music event without boundaries permeates the spirit of music, entertainment and fun
###