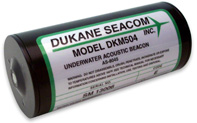 What sets the DKM Series Voyager Beacons apart are their 5-year battery life and 5-year warranty
Irvine, California (PRWEB) September 21, 2011
RJE International, Inc. introduces the new DKM series beacons designed for Voyage Data Recorders (VDR). The series by Dukane consists of two models that vary only in length to accommodate different mounting configurations.
"What sets the DKM Series Voyager Beacons apart are their 5-year battery life and 5-year warranty" said Robert Jechart, CEO of RJE International. Mr. Jechart went on to say "they also feature a new military grade chemical coating system that insures years of survival in harsh environmental elements and greater protection from erosion."
The DKM series beacon is mounted onto the memory module of the VDR. In the event of an accident the beacon begins to emit sonar signals immediately upon it's submergence in the water and sends out a signal every second for over 30 days which usually results in the recovery of the module.
RJE International, founded in 1991 is the world's leading supplier of diver navigation systems including sonar beacons for black boxes in aircraft and on ships.
Please contact us to find out how you can benefit from these new products.
###