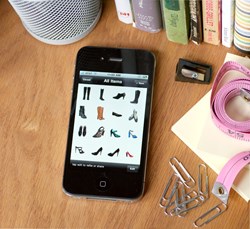 I thought that if people were willing to go to such lengths to manage their closet, an app could make the process a lot easier.
Westfield, NJ (PRWEB) September 20, 2011
Stylebook, a closet management app for the iPhone, was named one of Adweek's 2011 "Fashion's Power 25," a list of "the people and platforms that truly matter in the world of style." Originally launched in October 2009 as an experimental side project aimed primarily at fashion insiders, Stylebook has since caught on with men and women outside of the industry who are passionate about their wardrobes.
The software, which allows users to save and catalog images of their own clothes, as well as create outfit and moodboard collages, was inspired by co-founder Jessica Moore's experiences working in the fashion industry. While interning in the fashion closets of Vogue and Modern Bride, she met people who faithfully documented both their personal and professional closets but had no better alternative than handwritten forms, sketches, and albums of polaroids. "I thought that if people were willing to go to such lengths to manage their closet," said Moore, "an app could make the process a lot easier. Plus, I'd always wanted something like this for myself so I could remember my favorite outfits."
Called "surprisingly easy to navigate" by the New York Times, the app is a tool to help fashion lovers track and develop their personal style. "We built Stylebook for people who are serious about building and maintaining a great wardrobe. It isn't meant to be a gimmick app that you download and then forget about. We want Stylebook to be a staple in our users' sartorial lives - something our customers use every day: when they're getting ready in the morning, when they're out shopping for new clothes or when they're planning out their outfits for the week," said Moore. "We've been happy to hear from users who tell us they have hundreds of clothing items in their Stylebook or who have planned out their outfits for months in advance."
Device Requirements:
iPhone or iPod Touch
Pricing and Availability:
Stylebook is $3.99 (USD)
Currently available through the iTunes App Store
Stylebook Features:
Please visit stylebookapp.com for the full features list
About Left Brain / Right Brain LLC:
Left Brain / Right Brain LLC is a Westfield, NJ-based software company co-founded by programmer Bill Atkins and Jessica Moore, a former fashion publishing assistant with five years of industry experience—including three years in the Lucky art department and an internship in the Vogue fashion closet.
If you would like more information or a promo code, or if you would like to schedule an interview about Stylebook, please contact Jessica Moore at 732-299-4788 or jess(at)stylebookapp(dot)com.
###