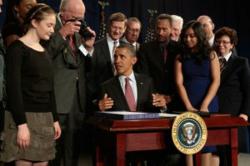 People can claim virtually anything when filing a provisional application, such as time machines and flying cars without any description of how they work
Canonsburg, PA (PRWEB) September 20, 2011
InventSAI, a company that specializes in counseling individual inventors and entrepreneurs, offers tips on how to avoid common patent application mistakes. The America Invents Act will bring notable changes to the patent application process in America for the foreseeable future. Most notably, the patent reform will change America from a "first-to-invent" country to a "first-to-file" country meaning that it is now basically a race to the patent office. Opponents to the Act fear that the new bill will overwhelmingly favor big businesses over small businesses and individual inventors. Their reasoning is that the "first-to-file" system makes it easier on large corporations with deep pockets who are not concerned with excessive legal costs.
Because of budget constraints on individuals and small businesses, an argument exists that this new law will see a surge of poorly written, low cost "do-it-yourself" Provisional Patent Applications on sites such as Legal Zoom where you are not required to receive the help of a licensed patent professional. This is similar to going to the plate in the major leagues without ever seeing a game or holding a bat before. There will be many unintended and unfortunate consequences as a result of the America Invents Act being passed into legislation. Only time will tell how the patent reform will affect small businesses, entrepreneurs, and everyday basement tinkerers with low budgets and little experience with intellectual property law.
"People can claim virtually anything when filing a provisional application, such as time machines and flying cars without any description of how they work," warns Bob Montgomery, President of InventSAI. "Getting in line first still does not give you priority rights unless you can adequately describe how the invention works. Many inventors are not aware of this and can be misled into thinking they have something of value – when they do not."
An internet search for provisional patent or patent application will reveal a multitude of companies that seemingly sprung up overnight offering low cost patent pending status in as little as 15 minutes. While an inventor can achieve patent pending status in a short period of time, many inventors are not aware that these expire within 12 months and that the protection that is afforded them is worth virtually nothing without technical disclosure as to how the invention can be made and used.
"It is easy to see why an inventor would want to rush into filing a patent with the passing of this bill," says Garvin Putt, Development Director of InventSAI, "however, inventors need to be forewarned before diving right into their application."
InventSAI cautions individual inventors on common patent application mistakes in light of the newly passed America Invents Act:
1. Seek a Professional You Trust. Always seek the guidance of experienced professionals before paying for or submitting your invention online to get a patent-pending status.
2. Never "Go It Alone." Intellectual Property has many nuances that only a licensed patent professional is prepared to handle for inventors. One mistake in the patent process could cause an individual years of hard work to go down the drain.
3. Be Realistic. If anything sounds too good to be true, turn the other way. The road from idea to patent to a product in stores is a process that takes time, costs money, and has considerable risks.
4. Invent What You Know. It is always best to focus on an area where you already have experience and know how.
5. Keep It A Secret. Keep your invention idea confidential and be especially cautious of submitting to sites that will use a social network to review your invention. Public disclosure of your invention starts the ticking time clock on the one year rule of obtaining patent protection.
About InventSAI:
InventSAI, part of the Montgomery IP Associates Group, is a veteran invention consulting firm focused on assisting small businesses, individual inventors, and entrepreneurs. With access to a patent and engineering law firm, Montgomery Patent & Design, and full service marketing agency, Ad-Gen, InventSAI is uniquely positioned to help inventors in all stages of bringing invention ideas to life. Inventors can find assistance whether they need help protecting their idea with a patent, developing their idea with engineering, and/ or marketing their idea to get it on store shelves.
###