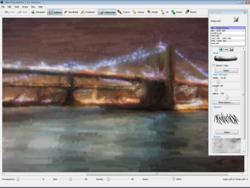 Buenos Aires, Argentina (PRWEB) September 21, 2011
Gertrudis Graphics today is pleased to announce the release 2 of its flagship product GMX-PhotoPainter for PC. "GMX-PhotoPainter II for PC is completely new development, it was created from scratch. Since the introduction of GMX-PhotoPainter for Mac, a new series of the product started: GMX-PhotoPainter II for PC and Mac, both versions shares the same common base, which includes internal painting structures, rendering algorithms, and even some parts of the user interface," said Enrique Nieloud, its creator.
GMX-PhotoPainter is a standalone software solution that transforms any image into an original artwork. Artists can start with an existing picture such as from a digital camera or scanner, a 3D rendering or painting from another program or imaging application. There are a number of standard, ready to use, styles which successfully imitate traditional media. Each of these comes in different sizes, and levels of details.
GMX-PhotoPainter first performs a topological analysis of the image's content and builds a matrix of flow direction vectors. Users can then paint a few quick strokes across the desired features of their image. GMX-PhotoPainter uses this information to generate something that looks more like hand-drawn masterpieces.
"GMX-PhotoPainter II adds a new chapter to the saga of Digital Painting Software, it completely revolutionizes the way Digital Artists make their creations," said Martin Duerr, the owner of CYBERSIGN.DE a Digital Art firm from Germany. "It facilitates the artist work, but without compromising their creativity. It's an indispensable tool for my daily work"
Realistic imitations of traditional media and automatic drawing
While one of the main goals of GMX-PhotoPainter II is enabling users to create their own styles, there are a number of standard, "ready to use" styles which successfully imitate traditional media: Watercolor, Oil painting, Crayon, and Pen & Ink. Each of these comes in different sizes, and levels of details. Also, it comes with tool called "Auto Paint" which lets the designer choose the option of giving the direction of the strokes in an automatic way. This is done by its exclusive flow analysis algorithm.
Custom Styles
GMX-PhotoPainter II for PC lets the user create its own style from the ground up, with a deep level of customization, including the shape of the brush, texture, color sampling technique, width, length, and many more features. There are in fact more than 40 different parameters, organized from the most common ones like width, length, transparency, to more sophisticated parameters like color variation, pen & ink behavior and others.
New Features:
While GMX-PhotoPainter II inherits the same ideas and concepts from its predecessors, is new in every aspect:

User Interface changes: The user interface has been completely redesigned. It's simpler and provides an easy access to the most common tools and settings. Everything lies in one window, in the previous version the left panel showed the original image, and right one the result. New version shows the original and painting image combined in the same window, and it let the user control the mix of both.
Freehand Painting: Like previous versions, GMX-PhotoPainter II lets convert the original image into a painting by automatically choosing color and direction of the brushstroke. This new version also adds the capability to paint freely, thus, the painting can be done stroke by stroke and the color can be chosen manually.
Refined Painting Algorithms: The algorithms have been tuned to render high quality paintings, Bristle Brushes and Paint and Ink now include more options.
Much faster than before: Because its kernel was written in C++ optimized for multicore processors, the painting operations respond naturally to hand movements.
GMX-PhotoPainter:
http://www.gertrudisgraphics.com/gmx-photopainter-information
Users Gallery:
http://www.gertrudisgraphics.com/users-gallery
Download GMX-PhotoPainter:
http://www.gertrudisgraphics.com/download
Purchase:
http://www.gertrudisgraphics.com/doBuy.php?f=pc
For further information on GMX-PhotoPainter II, or to request an NFR copy for review, email to: enieloud at gertrudisgraphics.com
Located in Buenos Aires, Argentina, Gertrudis Graphics is a privately held company established by independent developer, Enrique Nieloud. Gertrudis Graphics produces and sells Digital Painting Applications. It has published painting Applications for Windows and Mac Platform, and now is introducing GMX-PhotoPainter II for Windows Platform.
###