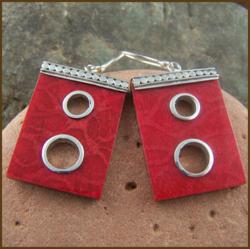 Live in style wearing handcrafted artisan sterling silver jewelry from the enchanted Kingdom of Nepal.
Chandler, AZ (PRWEB) September 21, 2011
KVS Pasal has been proud to offer handcrafted jewelry and cashmere fabrics from Nepal since 2006. Owner Victoria Vacala says, "I started because I lived in Nepal for three years and met and became friends with many of the artisans. When I got back to the United States, I was appalled to discover how terribly overpriced such items where through other merchants. I wanted to make these treasure of the world readily available to people in the U.S., so KVS Pasal was born. Today, we offer treasures from Nepal at affordable prices — beautiful pieces that are lovingly crafted, by hand, using traditional artisan methods. Our many artist friends work with us to create unique, eclectic designs especially for you."
The foremost online source for unique sterling silver jewelry, KVS Pasal, is unveiling a new collection of earrings. The collection is of the finest quality and perfect for the women who dare to be different.
"The new earrings are just a small sample of the unparalleled jewelry available from KVS Pasal. The sterling silver earring collection is handcrafted and designed individually by craftsmen and women from Nepal, therefore each piece is unique in itself," says Victoria Vacala, the owner of the company. "My artisan friends tell me the stones come from all over the world, but mostly from India, China, and particularly Bali, where the pearl, shell, sponge coral, mother of pearl and abalone are found. Because my artists friends work with so many different countries, they have access to unusual stones found only in those parts of the world and that are not readily available in the U.S."
Jewelry for the women who love unique jewelry is available at KVS Pasal and in various boutiques. Place your order online and email or call with any questions.
###