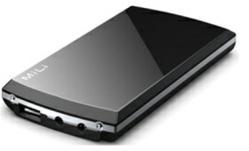 West Hurley, New York (PRWEB) September 20, 2011
Today MiLi Power Inc. launches the MiLi Power Prince, the first in a series of portable external battery chargers to be offered at MiLi, designed to keep pace with the insatiable demands of power for mobile consumers.
The MiLi Power Prince is packed with a 5,000 mAh lithium polymer battery. This translates into 42 hours of talk time, 33 hours of Internet usage, 113 hours of audio playback, or 37.5 hours of video.
Weighing only 5.5 ounces, the Power Prince has the highest power per ounce ratio in the world. Like all MiLi products, it comes encased in a compact, stylish & durable rectangular box with a polished finish.
The Power Prince has been built with gift quality and fits comfortably into a pocket, laptop case or purse thus giving the consumer truly portable power, anytime. With it, the worrisome days of being on the run for an entire day are over.
The Power Prince features a unique dual output design to charge devices from 5v to 9-12v. At 5v, it can produce 2.1A to charge iPad. At 9-12v, the 1.5A can charge big range of electronic gadgets. It comes with a 9v, 2A charger and takes 3 hours to charge itself.
MiLi Power wants to solve the various connection problems of electronic devices. They have equipped the Power Prince with 8 different tips which can charge most USB & traditional electronic devices. MiLi Power further offers a Tip Fit Guaranty program that ensures any two free tips for life. With MiLi Power Prince, one can be home free for good.
In keeping with MiLi's ongoing commitment to environmental responsibility, the MiLi Power Prince comes in environmentally-friendly packaging primarily made of recyclable corrugated paper and all MiLi products are certified with CE, RoHs.
To find more information, visit http://www.MiLiPower.com.
###