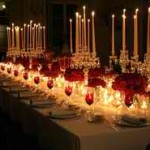 Great Work. Beautiful!!! Elegance at its best.
(PRWEB) September 22, 2011
Charlotte Sophia Event Design has planned and designed events for clients within the Dallas/Fort Worth Area for the past few years. With the new Fall and Winter Seasons coming up what a better way to enjoy some extra relaxation then to have someone take care of party planning, weddings and seasonal celebrations for any occasion. Charlotte Sophia Event Design gives each client an experience of a lifetime. With planned events at many different price points, for an array of people no one is left out. If party planners are spending one thousand dollars, or one million, each customer needs to feel special, and have their needs met. Charlotte Sophia Event Design promise professional and personalized service to each client throughout the entire working relationship, and beyond.
Remember, treat yourself well, and Charlotte Sophia Event Design will treat you better.
Charlotte Sophia Event Design specializes in:
Event Planning, Design & Production
Floral Arrangements/Displays
Interior Decor/Design
Weddings, Birthdays, Anniversaries
Corporate Events, Grand Openings
Art Gallery Nights
Seasonal Celebrations
Public Relations. Any Special Event
Elegant Gift Ideas
###