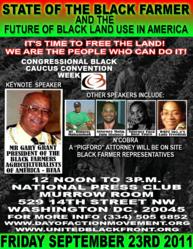 Selma, AL (PRWEB) September 21, 2011
WHO: UNITED FRONT AGRICULTURE MINISTRY
WHAT: "STATE OF THE BLACK FARMER & THE FUTURE OF BLACK LAND USE IN AMERICA " PRESS CONFERENCE
WHEN: SEPTEMBER 23RD, 2011; 12 NOON -3 PM. Congressional Black Caucus Week
WHERE: NATIONAL PRESS CLUB , 529 14TH ST NW, WASHINGTON DC,20045
WHY: BECAUSE JUSTICE DELAYED IS JUSTICE DENIED
Organizers and activists of the United Front Agriculture Ministry will be hosting a press conference in Washington, DC on Friday, September 23rd, 2011 at Noon. The "State of the Black Farmer and The Future of Black Land Use in America" Press Conference will be held in the Murrow Room of the National Press Club. There are many concerns that prompted the United Front's Agriculture Ministry to bring the plight of the farmers to the forefront. To assist in laying these issues on the table, a panel has been comprised to include:
Mr. Gary Grant ~ President of the Black Farmers and Agriculturalists Association
Dr. Ridgely Muhammad ~ Muhuammad Farms/ NOI Ministry of Agriculture
Attorney Faya Rose Toure ~ Class Council for Pigford I and II
Attorney Malik Zulu Shabazz ~ Black Lawyers for Justice/ Organizer/ Chairman of the New Black Panther Party
Lady Freedom ~ WBFZ 105.3 FM Radio / United Front Agriculture Ministry/Activist
This press conference was strategically placed on the Friday of the Congressional Black Caucus (CBC) convening to reach out to and communicate with black elected officials in regards to farmers' issues. There have been complaints from some members of the CBC that opposition to their efforts for justice for farmers have been consistent and continual.
This press conference will also serve as a follow up report on the hearings on Pigford I,which occurred this month in the Supreme Court (Timothy Pigford, et al., v. Dan Glickman, Secretary, United States Department of Agriculture, US District Court for the District of Columbia, Civil Action No. 97-1978).
According to Class Council Faya Rose Toure, there are stipulations being put in place to further delay the payment to farmers who have had their cases decided and awards ordered.
"Unfortunately, too many farmers have died waiting to receive the court ordered payouts or are facing foreclosure while waiting for their funds to be released. Although President Obama did sign off for the payment to the farmers in his first year of office, it is ultimately up to the Senate and Congress to put it into a budget. Changes in the political demographics have recently taken democrats and other sympathizers with farmers to a seeming minority, and public outcry has not been loud enough to demand the necessary actions be taken," she added.
U.F.A.M.'s press conference will also relay information about it's upcoming joint effort with International Day of Action (IDOA) organizers to put Black Farmers in the forefront in some way in their third organized effort this year. Over 15 cities cross country have already confirmed that they will be participating on October 1st, 2011, by incorporating agriculture promoting events with Farmer's Co-ops, Buyer Club start ups, and/or Teach-Ins about the importance of living off the land and supporting Black Farmers.
The United Front Ministry of Agriculture is one of the ministries of the United Black Front. For more information about U.F.A.M.contact Lady Freedom at mzfreedomfighter(at)gmail(dot)com . For information on the International Day of Action Contact nationaldayofaction(at)yahoo(dot)com .
http://www.unitedblackfront.org
Join "United Front Agriculture Ministry" on Facebook for updates and Information
###