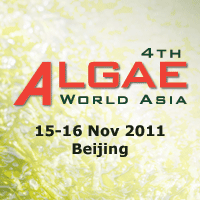 4th Algae World Asia on 15-16 Nov 2011 in Beijing explores potential for algae production in Asia
Beijing, China (PRWEB) September 21, 2011
With the success of Algae World Australia in hand, CMT is raring to move on to the next exciting Algae World Series- this time in Beijing, China, to be held on 15-16 November, and as anticipated will include a site tour to the ENN algae facility in Langfang, located about an hour's drive from Beijing.
During the site visit delegates will witness

Cultivation of microalgae in different PBRs and open ponds. The cultivation system will use the Co2 from the pilot coal gasification plant at the site.
Part of the scaled-up dewatering /harvesting/lipids extraction system
Algae National Key Bioenergy lab on algae strains, cultivation, PBRs, harvesting, lipids extraction
For the conference, key topics that invited experts will examine include:

Advancements in Large Scale Production Systems at Significant Cost Reductions
Commercial Viability of Algae Investment - Economic Analysis Cost Structure of Production & Processing
Developing Economically Feasible Algal Integrated System to capture CO2 from Power Plants
Leading the session on the developments in Asia is Prof Liu Min Sheng, Director at Bioenergy Institute of ENN Science & Technology Development Co. Ltd., who will provide an insight into Capturing Flue Gas Emissions from Coal Power Plant for Microalgae Production. Next is Dr Ji-Won Yang, CEO of Advanced Biomass R&D Center from Korea Advanced Institute of Science and Technology with his presentation on Current Status of Algal Business in Korea & Prospects. Additionally, AlgaeTech's CEO, Syed Isa Syed Alwi is slated to speak on Indonesia's Algae Project while Alganovo will shed light on a Chinese Producer's perspective on applications of Algae for high-end value products.
CMT's 4th Algae World Asia expects to attract an even mix of representatives from the academic, commercial and investment community to build meaningful links and collaborations. This summit is a meeting ground for algae producers, experts from the biofuel, steel, cement and ethanol industry, animal feed producers and more.
4th Algae World Asia is currently welcoming registrations. To access full agenda and other information, visit the event's website at http://www.cmtevents.com. For details on reservations, please contact Ms Huiyan at +65 6346 9113
###