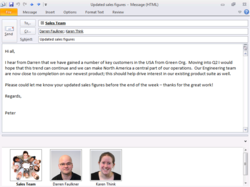 make friends out of colleagues and turn a department into a team.
(PRWEB UK) 27 September 2011
2.1 million people are now using Exclaimer's free Oulook Photos software, according to their user-generated data.
It's not attached, it's embedded in the message like the sender's contact details – so users see the photo alongside the sender's name or role.
Exclaimer says Outlook Photos puts human interaction back at the heart of email communication.
'Email has become an obstruction, we may transmit but we don't connect or relate', argues Neal Stanborough, Corporate Culture Expert at Exclaimer.
'Outlook Photos fixes that – you can avoid name or job title mix-ups, make friends out of colleagues and turn a department into a team.
'In a subtle, but substantial way, it makes corporate culture better'
The software moves photos from any source – a digital camera or shared folder – into your Active Directory where Outlook finds details like your name or phone number.
When you get an email, it grabs and displays that data just like any contact information – it puts a face to a name, literally.
From international banks to local bakeries, companies are using it to create cosier, friendlier cultures – for free.
With some help, it even works on outgoing email.
Exclaimer offers it with their Signature Manager or Mail Disclaimers software, to magnify its effectiveness and get the same imagery on outgoing email.
Exclaimer's CEO, Andrew Millington explained, 'this is about using email to go beyond email.
'Outlook Photos proves that email can be more than the text it contains – it's a way to impress, engage, or make friends.
'This is just part of what we do – let's get vivid email signatures, auto-customised for each reader, equally tailored auto-responses and uniquely reliable anti-spam.
'Everyone wants more from email – we're here to give it to them'
###