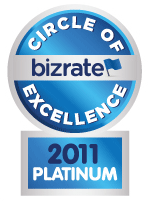 Great customer service isn't a one-time deal at SafetyGlassesUSA.com. We want our customers to have a pleasant shopping experience each and every time they shop with us – just like we would want to be treated
Three Rivers, MI (PRWEB) September 21, 2011
First in safety, and now, SafetyGlassesUSA.com is first in customer satisfaction excellence. The safety glasses website is proud to announce it has earned the Bizrate® Circle of Excellence Platinum award, one of just 27 retailers to earn the award this year, representing .5% of all online retailers in the Bizrate Insights North American Retailer Network.
Bizrate reports that the pool of contenders was more competitive in 2011 than past years, with Platinum winners achieving a 9.0 out of 10 on seven key performance customer satisfaction indicators. The indicators include an emphasis in excellence in total customer satisfaction, variety of products on the site, website accessibility, likelihood shoppers will purchase again from the business, website meeting and exceeding expectations, efficient delivery, and exceptional customer support.
"We've dedicated our lives to equipping our customers with exceptional safety glasses, and we couldn't be more thankful to our customers for helping us achieve the esteemed Bizrate Circle of Excellence Platinum award," cites Mike Eldridge, President, SafetyGlassesUSA.com.
The Bizrate ratings were collected from SafetyGlassesUSA.com customers at the point of sale, with customers asked to rate the website in an open, honest manner. SafetyGlassesUSA.com collects customer ratings regularly throughout the year, and to earn the Platinum award, must receive the highest of ratings on a consistent basis.
"Great customer service isn't a one-time deal at SafetyGlassesUSA.com. We want our customers to have a pleasant shopping experience each and every time they shop with us – just like we would want to be treated," explains Eldridge.
Visit SafetyGlassesUSA.com to learn more about their selection of safety glasses and safety goggles.
About SafetyGlassesUSA.com
SafetyGlassesUSA.com was founded in 2000 in Three Rivers, Michigan, and has quickly become an online hub for bifocal safety glasses, polarized safety glasses, and kid's safety glasses. The safety glasses retailer places an emphasis on superior customer service and selection of safety glasses from brands including Oakley, DeWalt, Smith & Wesson, and Pyramex. In addition to the company's Bizrate Circle of Excellence Platinum Award, SafetyGlassesUSA.com has earned an A+ rating by the Better Business Bureau® and a recent GSA Contract Award.
###