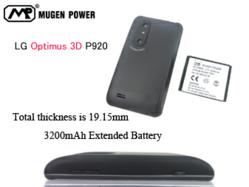 Hong Kong (PRWEB) September 20, 2011
Mugen Power is the worldwide leading brand of high performance batteries for portable electronic devices. Today Mugen Power release a new battery (3200mAh) for LG Optimus 3D P920, which doubles the battery life of its original battery(1500mAh).
The new battery HLI-P920XL for LG Optimus 3D P920 is designed to provide long lasting battery life for consumers especially those who use their mobile phones frequently. HLI-P920XL extends the battery life by 113% providing 1700mAh more than original battery does.
Besides delivering longer battery life, HLI-P920XL is exceptionally reliable. Like other batteries provided by Mugen Power, it has undergone vigorous QA procedures to achieve highest quality and lowest return rate in the industry. HLI-P920XL is also CE approved.
"We all know that the original battery life of LG Optimus 3D P920 is around 9 hours talk time, not mention when using it as a personal assistant, the battery life will be significantly declined to 5 or 6 hours. This cannot satisfy the daily usage for consumers, especially those businessmen who use their cellphone a lot, such as for video conferencing, email checking, event reminder and so on. They need to at least charge their phone twice a day. We worked hard on this project and managed to add another 1700mAh capacity into HLI-P920XL, which more than double of the original capacity. This solution gives customers longer battery life to stay connected without recharges and make more with the smartphone than they can ever before," says Alice Yang, marketing manager at eTrade Asia Ltd.
Pricing and Availability
HLI-P920XL is now available for $98.95 from Mugen Power Batteries at http://www.mugen-power-batteries.com/mugen-power-3200mah-extended-battery-for-lg-optimus-3d-p920-with-battery-door.html
Connect with Mugen Power Batteries on Facebook: http://www.facebook.com/MugenPowerBatteries
Follow Mugen Power on Twitter: http://twitter.com/MugenBatteries
About Mugen Power Batteries
Mugen Power is the worldwide leading brand of high performance batteries for portable electronic devices. Mugen Power means Performance and Quality and delivers a full spectrum of high quality products for PDAs, smartphones, digital cameras, camcorders, MP3 players, portable DVD players, notebooks, UMPCs and Personal Media Devices.
Mugen Power batteries have better performance (higher capacity) and reliability (longevity & safety) than other brands. The superior performance improves run time, often doubling that provided by the original brand replacement. The superior quality results in longer battery life and better protection of the powered device.
All Mugen Power batteries also undergo vigorous QA procedure, resulting in Mugen Power achieving the lowest return rate in the market. All Mugen Power batteries are CE and RoHS Certified.
NOTE FOR EDITORS: Mugen Power 3200mAh Extended Battery for LG Optimus 3D P920 is available on request to editors of computer magazines and bloggers who will to write a review of the battery.
###