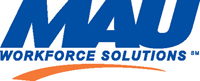 We are so proud to be a part of the Inc. 500/5000 list of fastest growing private companies in America. I hope for the continued success of MAU, as well as our fellow honorees
Augusta, GA (PRWEB) September 21, 2011
Inc. magazine has ranked MAU Workforce Solutions, a staffing and recruiting firm based in Augusta, GA, #4778 on its fifth annual Inc. 500|5000, an exclusive ranking of the nation's fastest-growing private companies. In the Human Resources category, MAU was ranked #150. The list represents the most comprehensive look at the most important segment of the economy—America's independent entrepreneurs. Online retailer ideeli tops this year's list. As an Inc. 5000 honoree, MAU Workforce Solutions shares a prestigious pedigree with such notable alumni as Intuit, Zappos, Under Armour, Microsoft, Jamba Juice, Timberland, Clif Bar, Patagonia, Orable, Zipcar, and scores of other powerhouses.
In a stagnant economic environment, median growth rate of 2011 Inc. 500|5000 companies remains an impressive 94 percent. The companies on this year's list report having created 350,000 jobs in the past three years, and aggregate revenue among the honorees reached $366 billion, up 14 percent from last year.
According to MAU President Randy Hatcher, "We are so proud to be a part of the Inc. 500/5000 list of fastest growing private companies in America. I hope for the continued success of MAU, as well as our fellow honorees."
Complete results of the Inc. 5000, including company profiles and an interactive database that can be sorted by industry, region, and other criteria, can be found at http://www.inc.com/5000.
"Now, more than ever, we depend on Inc. 500/5000 companies to spur innovation, provide jobs, and drive the economy forward. Growth companies, not large corporations, are where the action is," says Inc. magazine Editor Jane Berentson.
Methodology:
The 2011 Inc. 500 is ranked according to percentage revenue growth when comparing 2007 to 2010. To qualify, companies must have been founded and generating revenue by March 31, 2007. Additionally, they had to be U.S.-based, privately held, for profit, and independent—not subsidiaries or divisions of other companies—as of December 31, 2010. (Since then, a number of companies on the list have gone public or been acquired.) The minimum revenue required for 2007 is $100,000; the minimum for 2010 is $2 million. As always, Inc. reserves the right to decline applicants for subjective reasons. Companies on the Inc. 500 are featured in Inc.'s September issue. They represent the top tier of the Inc. 5000, which can be found at http://www.inc.com/500.
About MAU Workforce Solutions:
MAU Workforce Solutions is one of the country's premiere human resources and staffing service companies. Founded in 1973, it has grown steadily from a local agency into a multi-faceted business with an international customer base and a nationwide presence.
MAU enables its clients to focus on their core operations to be low-cost providers in a high cost country. Since its founding, MAU has helped companies stay competitive through flexible employment solutions including Professional Recruiting, Industrial Staffing, Office Services Staffing, Outsourcing Solutions, and Human Resource Services.
MAU specializes in understanding a client's business to design, implement and manage workforce processes. With true knowledge of the business, culture, and systems, each process goes beyond transactional services allowing firms to take their non-core functions and make them MAU's core-function. As a leading provider for recruiting and placement services, we successfully place temporary, contract, and full-time regular candidates with Fortune 500 companies in a wide variety of professional, office, industrial, medical, and technical positions.
MAU is based in Augusta, GA and has 10 locations throughout the U.S.: Augusta, GA, Lagrange, GA, Aiken, SC, Anderson, SC, Charleston, SC, Greenville, SC, Spartanburg, SC, Jacksonville, FL, Chattanooga, TN, and Chicago, IL. For additional information about MAU Workforce Solutions please contact Laura Baareman at laura.baareman(at)mau(dot)com (706-823-2344).
About Inc. Magazine:
Founded in 1979 and acquired in 2005 by Mansueto Ventures LLC, Inc. (http://www.inc.com) is the only major business magazine dedicated exclusively to owners and managers of growing private companies that delivers real solutions for today's innovative company builders. With a total paid circulation of 710,106, Inc. provides hands-on tools and market-tested strategies for managing people, finances, sales, marketing, and technology. Visit us online at http://www.inc.com.
###